That's right, Potterheads! Time to get excited because we have more on the way from Rowling's fantastical Harry Potter universe in the form of 
Fantastic Beasts and Where To Find Them! 
Harry Potter producer David Heyman told
The Telegraph
:
Jo [Rowling] has written a wonderful script. It's early stages. David Yates is directing and we start filming next year. I'm just really excited about it.
Written under the pseudonym Newt Scamander,
the book
Fantastic Beasts and Where To Find Them, "
is an A to Z listing of magical beasts—those you've heard of and some new ones, and their classifications. It's on the required book list for all Hogwarts students and a much-revered text by Hagrid, Groundskeeper and Care of Magical Creatures teacher." The movie will take place in New York, seventy years before Harry arrives at Hogwarts.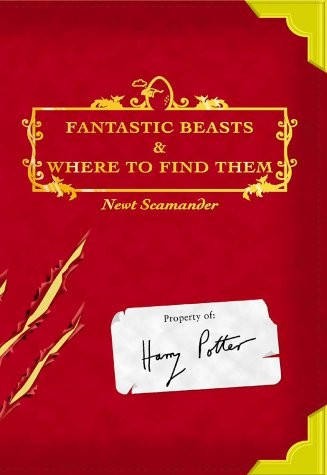 Wikipedia
We have a director and they'll be filming next year, but we do not have a cast! What we know about Newt from the "about the author" section of the book: Newton Artemis Fido "Newt" Scamander was born in 1897. Scamander became a magizoologist because of his own interest in fabulous beasts and the encouragement of his mother, an enthusiastic Hippogriff breeder. In Hogwarts, he was sorted to Hufflepuff. After graduating from Hogwarts, Scamander joined the Ministry of Magic in the Department for the Regulation and Control of Magical Creatures. His career included a brief stint in the Office of House-elf Relocation, a transfer to the Beast Division, the creation of the Werewolf Register in 1947, the 1965 passage of the Ban on Experimental Breeding, and many research trips for the Dragon Research and Restraint Bureau. His contributions to Magizoology earned him an Order of Merlin, Second Class in 1979. Now retired, he lives in Dorset with his wife Porpentina and their pet Kneazles: Hoppy, Milly and Mauler. He has a grandson named Rolf, who married Luna Lovegood some time after the events of Harry Potter and the Deathly Hallows. Although Rowling has never hidden the fact that she is the author of Fantastic Beasts, "Newt Scamander" can nevertheless be considered a pseudonym of hers, as he is technically the author listed on the book's cover. Who do you think should play Newt? Should he be dashing? Dorky? Devilishly handsome? Let us know in the comments below! Sources:
Wikipedia
Telegraph
Keep Up With PopWrapped On The Web!