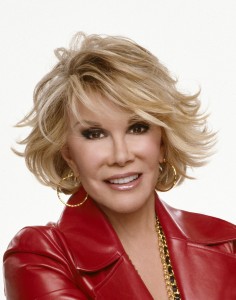 Cltampa.com
Updated 8:58 pm -
In a report from the
New York Daily News
, it's been said that Rivers has been placed in a medically-induced coma. Doctors have said that she is expected to be brought out of the coma this weekend to re-evaluate whether or not she sustained any brain damage when she stopped breathing.
Updated 1:28 pm
-Rest easy!
Reports are filing
in that Joan is in stable condition now.
Our own lovely living legend Joan Rivers is in stable condition at Mt Sinai hospital ..#LiveFromE — Ken Baker (@kenbakernow) August 28, 2014
Updated 12:23 pm
-
TMZ
is now reporting that Joan is in critical condition, stating that her heart may have stopped momentarily. Joan Rivers was rushed to an NYC hospital just minutes ago, according to breaking reports from
TMZ
  and
Just Jared
. The 81-year-old comedienne was undergoing a throat procedure on her vocal chords at an NYC clinic, when she reportedly stopped breathing during the surgery. She was then rushed to Mount Sinai, where she is currently. Daughter Melissa is said to be on her way into New York. Thinking positive thoughts Joan!!!!
Keep Up With PopWrapped On The Web!
Twitter 
SoundCloud
Facebook
Instagram
Tumblr
Pinterest
YouTube