On Saturday May 30, Joanne Weaver hosted her CD release show and party in celebration of her second full-length album, Interstellar Songbook II. The event was held at NYC's The Wooly – an upscale lounge/cocktail bar in the Woolworth building. It was a curious choice for a venue, for rarely do we hear about live bands in the financial district.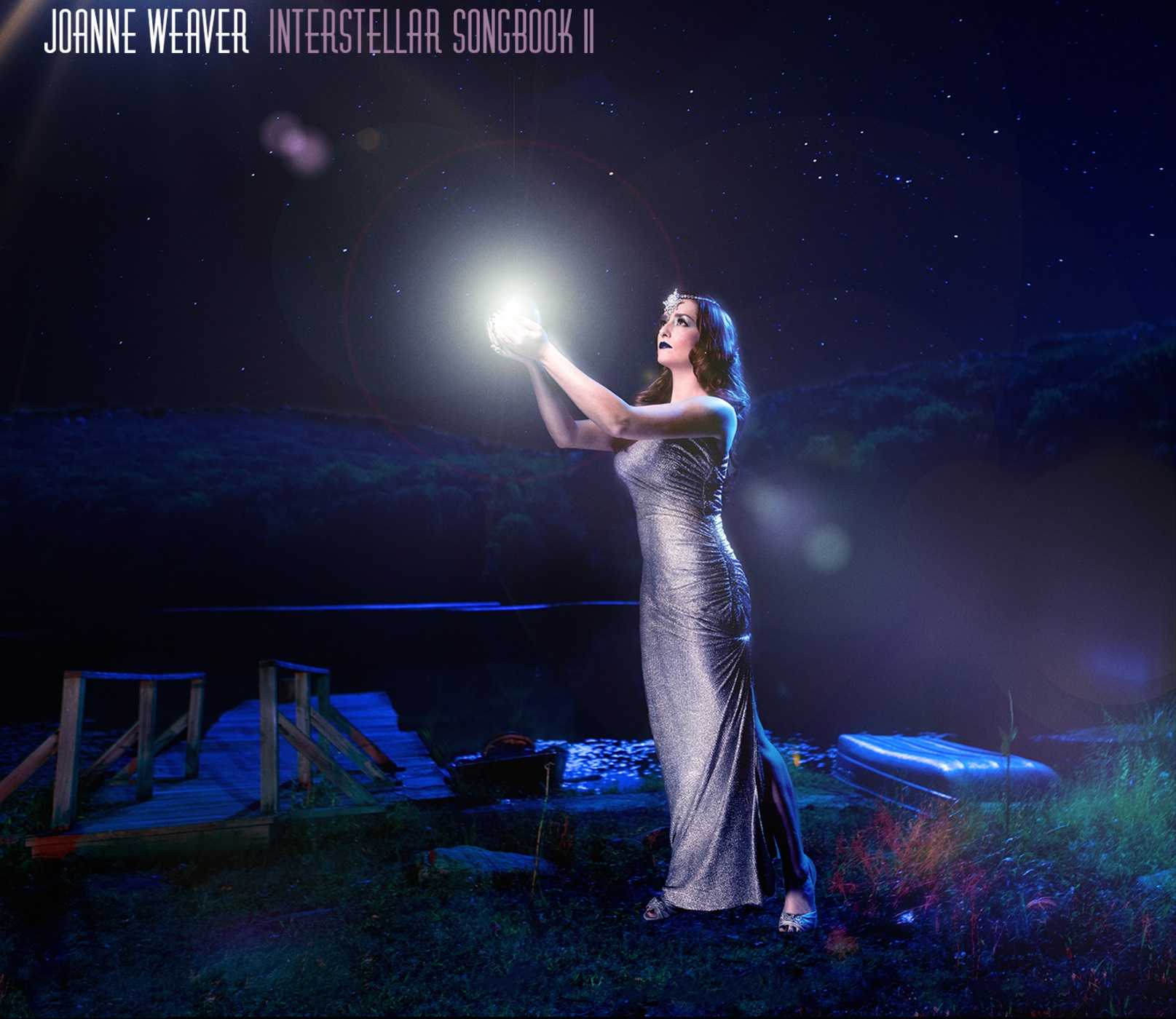 Credit: EI PR
Before the night's ceremony began, a dim-lit stage with a glitter backdrop set the tone for the night's event. A vintage microphone stood shimmering and alone, recalling "Club Silencio" from David Lynch's "Mulholland Drive." A well-dressed crowd casually nursed their drinks, awaiting the spectacle to come.
At last, there was a bustle from behind; a procession parted the crowd. Ushered in by a dashing male escort carrying semaphores, Miss Weaver strode elegant and assured, bejeweled and radiant, as though a royal queen had at last landed from another planet. She took to the stage charismatically, joined by her shadowed and professional entourage: an electric guitarist (David Patterson), a percussionist (Ivan Katz), and DJ (Robert Lux). With the onset of a mysterious interstellar backing track, the band segued into its opening number: "Begin the Beguine" by Cole Porter.
The arrangement of the song was striking and original. Combining laid-back Latin rhythms, a gorgeous classic melody, and otherworldly sonic atmospheres, it was impossible not to be swept away by the music's dense tapestry. As Miss Weaver took to the mic, her enchanting vocals cast a spell on the crowd, demanding the undivided attention of The Woolworth's dim-lit room.
Vocally, her voice poured out effortlessly. She was poised, entranced, and held a mystique calling to mind both Lana Del Rey and Ella Fitzgerald. The blend between band and singer was seamless; her vocals serenaded on top while the musicians weaved in and out of the masterful arrangements.
The set list ventured through a diverse array of jazz classics, from "Autumn Leaves," to "If I Didn't Care" by Jack Lawrence, to "Moonlight Serenade" by Glenn Miller. In "Moonlight Serenade," Miss Weaver brought forth a large white hand drum - shining white and bright as a full moon. Like a witch possessed, she crooned, "Only you have that magic technique, when you sway I will weep."
The immersive sci-fi musical atmospheres were the work of composer/producer Andre Fratto. In addition to backing the live show, the musical tracks can be heard on Joanne Weaver's album. Andre Fratto not only preserved the original song structures, but also spawned an alternate universe - incorporating trip hop, bossa nova and sci-fi elements to yield remarkably original soundscapes. The visual elements of the show, also fully immersive, were procured by John Byrne.
Periodically, a dashingly handsome, tuxedoed Mediterranean man would grace the stage. The interplay between Miss Weaver and the man was compelling, though equally heightened was a full-scale romantic dance between the man and another mistress – a blindingly gorgeous seductress who looked to be of Russian origin.
While the couple danced, the musicians shined. The long-haired guitarist shredded a heartfelt solo, the percussionist passionately beat his djembe, the DJ conducted the other musicians with secret hand signals. It all went over as if a smooth, covert, alien message was being communicated; Miss Weaver channeling her song as though a chosen oracle.
The night closed with an explosive rendition of "As Time Goes By" by Herman Hupfeld. Miss Weaver chanted, "Time goes by, time goes by, time goes by," as the band accelerated into light speed. It was as though the porthole to the past had been sealed, that we were again thrust back into 2015 after embarking on an interstellar sonic adventure. 
The effect was chilling – that night, 
we were all under Miss Weaver's spell.
Be sure to check out Joanne Weaver's Interstellar Songbook II and stay tuned for upcoming shows on her official website.