Johnny Depp is receiving some support amid the scandal he's living, as both of his ex-wives have reportedly made statements defending him of the allegations made by his soon-to-be ex-wife, Amber Heard. Depp's daughter has also shared her support via Instagram.
Depp's first wife, Lori Ann Allison - who was married to him for two years, from 1983 to 1985 - reportedly stated that she does not believe Amber Heard's claim of domestic abuse. Reports say that Allison says that Depp "never got physical with her during their relationship, he never even screamed." She called the prolific actor a "soft person" who was even kind to animals.
Johnny Depp's second wife, model Vanessa Paradis - with whom the actor was married for 14 years - reportedly wrote a letter, revealed by TMZ, in which she supports her ex-husband and father of her two children. The handwritten letter reads:
"To whom it may concern,

Johnny Depp is the father of my two children, he is a sensitive, loving and loved person, and I believe with all my heart, that these recent allegations being made are outrageous. In all these years I have known Johnny, he has never been physically abusive with me and this looks nothing like the man I lived with for 14 wonderful years.

Sincerely,

Vanessa Paradis

May 27th 2016

Los Angeles"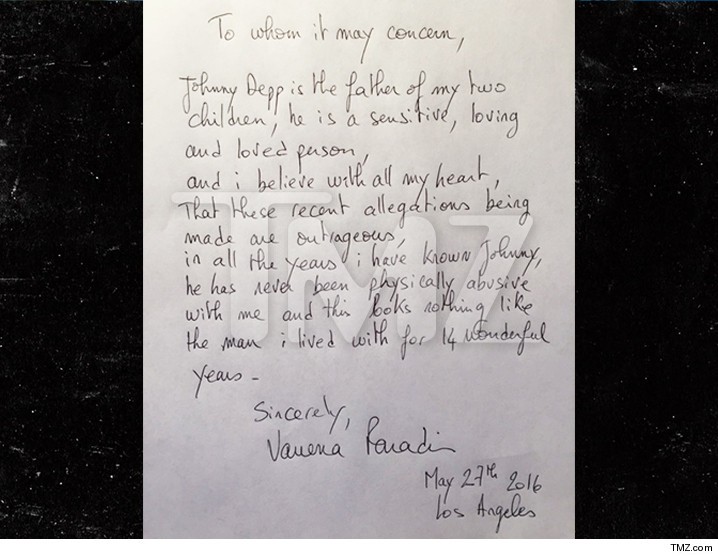 TMZ
Lily-Rose Depp, Paradis and Depp's 17 year old daughter, also demonstrated she had her father's back today, when she posted a throwback photo of herself and Depp on her Instagram account. She captioned the picture with "My dad is the sweetest most loving person I know, he's been nothing but a wonderful father to my little brother and I, and everyone who knows him would say the same."
Amber Heard filed for divorce on Monday, only three days after Johnny Depp's mother - with whom he had a very close relationship - passed away. According to court documents, Heard asked for 50 thousand dollars a month for spousal support, sole ownership of the house the couple shared, sole ownership of the couple's Range Rover, attorney fees and also stated that she wanted sole possession of one of their dogs.
Johnny Depp broke his silence on Thursday via a succinct statement made by the actor's rep on his behalf:
"Given the brevity of this marriage and the most recent and tragic loss of his mother, Johnny will not respond to any of the salacious false stories, gossip, misinformation and lies about his personal life. Hopefully the dissolution of this short marriage will be resolved quickly."
After that statement was released, Heard appeared in court seeking a resolution regarding her request for spousal support and also, and most upsettingly, to file a restraining order against Johnny Depp, alleging domestic abuse.
The actress submitted pictures of bruises on her face that have been making the rounds online, claiming that Depp assaulted her by throwing a cellphone at her face on May 21st.
A judge granted Amber's request for a domestic abuse restraining order but did not grant her the spousal support she was seeking.
People Magazine contacted the LAPD regarding the May 21st incident and LAPD Sgt. Marlon Marrache gave the magazine the following statement:
"On May 21, 2016, officers responded to a domestic incident radio call. The person reporting the crime [Heard] did not insist on a report and no report was warranted. There was no evidence of any crime. A crime did not occur so the officers left the scene and left a business card."
He added that "if there had been any signs of abuse, officers would have conducted an investigation", regardless of what Heard said had happened.
Many Depp supporters also took notice of a picture of Heard with friends Amanda de Cadenet and Amber Valletta that was posted on Instagram and taken on May 22nd, the day following Depp's alleged attack. Heard's bruises are not visible in the picture. The picture was deleted from Instagram shortly before Heard went to court to secure the aforementioned restraining order against Depp.
Johnny Depp's attorney, Laura Wasser, said, regarding Heard's claims of abuse, that the actress is "attempting to secure a premature financial resolution by alleging abuse." In court documents, Wasser also declared:
"Her current application for a temporary restraining order along with her financial requests appears to be in response to the negative media attention she received earlier this week after filing for divorce. Yet Johnny cannot protect himself or Amber from media scrutiny, and Amber's anger certainly cannot drive this dissolution proceeding."
It's sad to see a couple that was once happy go through a divorce, the allegations of abuse though, make this a million times worse. No one knows for sure if Depp was really abusive towards Heard or if the claim is a horrible strategy by Heard's team, either way, there is no happy ending here for anyone involved.