Good day to you, Poppies! If you're at San Diego's Comic Con this year, you've no doubt been seeing some amazing panels! Our lovely press team is covering everything they can get access to, so you can get even more exclusive content!
I got the chance to sit down the Jon Schnepp and Holly Payne to discuss their documentary, The Death of Superman Lives: What Happened. The documentary is based on a Tim Burton film starring Nicolas Cage that never got made. The decision, though explained by the Warner Bros team, leaves many of us (myself included) scratching our heads.
A Superman film helmed by Tim Burton? Sign me up!
Schnepp and Payne set the record straight, and explain why we have to put our signing pens away for the time being.
PopWrapped: So I heard you guys both say you both love Tim Burton's work. My family and I are great fans of his work--we saw his exhibit over in LA.
Jon Schnepp: Sure, great exhibit.
PW: It was a wonderful exhibit. My brother's a big fan, and when I told him I was doing this, he said "Wait...Tim Burton had a Superman movie? Why wasn't I aware of this?" And I said, "Because it flopped."
Holly Payne: It didn't flop, though. It never got made.
PW: But so why? Why didn't it get made? WB had it on its docket for two years, right? So what happened?
JS: So basically what happened is it's a comic book character. Superman Quest For Peace came out as a box office bomb, and literally that destroyed the franchise--just like Batman and Robin destroyed the Batman franchise. Just like it took a long time to get Christopher Nolan's take up, it took a while to get Superman Quest For Peace out of the public mindset. It took even longer to get a Superman movie made. Jon Peers only got the rights in '93/'94, and it took a while to get even a script to the level where Warner Bros would get excited about it. As you know, Kevin Smith was hired to write a draft of the screenplay, which got Tim Burton interested. Of course Tim had his own writer that he wanted to bring on and his own take on the material, and that's when production began: the concept of a hired team of a bunch of amazing artists who had worked with him. And they started to conceptualize this film. They were doing that, unfortunately, while, of course, 97/98 was going on, and Warner Bros was seeing that the franchise was not meeting the expectations monetarily. What happens is, it's a business--it's not just about entertainment.
HP: They're looking at the bottom line.
JS: Yes, it's a bottom line business, and if they're not feeling comfortable, they can't take that risk.  What happened in 98 when they pulled the plug was they could not take that financial risk of spending $300 million on a film that didn't have a script done, they were unsure about whether or not Tim Burton was the right choice, they were worried about Nicolas Cage. They did have a lot of worries, but what our film discovered is that those worries are definitely fair, but you also have the creative process, which on the flip side of it would have been one of the more interesting takes on the Superman mythology. It would have been refreshing, it would have been new, different; it would have had this positive feel to it. It wouldn't have been dark and gothic like Batman, it would have had this bright and lighter feel to it; but it would have actually explored the Superman character in this whole brand new way as being an alien and a misunderstood character as opposed to a god. I think that's one of the things that the schoolboy, the bright...
HP: The blue Boy Scout.
JS: Yeah, the apple pie, the truth, justice, and the American way. Everyone's kind of tired of that, and I think that emulation of Superman and that stamp of what that is has always been kind of changed up in the comic book world, like Grant Morrison or Alan Moore. Different writers have different perspectives on it, and we haven't had the chance to really explore that in cinematic terms. I think Zach Snyder and Man of Steel worked on many levels for me because they did take risks, they did take chances. Albeit it could be a lot darker than what other people think Superman is, what he should be, but Tim Burton's Superman would have been brighter. Also, with Nicolas Cage, you would have empathized with him as more human. Even though he's playing an alien, I think you would have empathized with his take,
HP: As far as Superman is concerned, one of the things I've always had a problem with is sort of the messianic parable, you know? The fact that he's indestructible. He is a god, and I think what Tim Burton would have gone for would not be that at all, it would be something totally different and you would have related to him. You can't relate to a god. You can relate to multiple gods, like in the X-men; you can relate to a pantheon of gods. The one true god concept is in many ways what Superman is related to, and it's not where Tim Burton was going with this. Down to having Nicolas Cage, down to having some of the concept art. He was going for something completely unique. It was a whole different color palate than anything we've seen in films at that point. There's so many angles to Tim's take that would have been totally different from Batman, too--nothing like Batman. So people kind of think that because of course he did so well with Batman, he would do well with Superman.
PW: It would have sparked that Batman vs Superman debate that everyone's always had.
HP: Well sure, yeah.
PW: Some say it's Batman, because he can hide kryptonite is his cape. Some say Superman because he's got all the extra powers.
HP: Right. Except that in Kevin's version of the script, it wouldn't have been versus, it would have been Batman saying a eulogy --eulogizing Superman. So that could have taken a completely different tangent for Batman versus Superman than where we're at now.
PW: I was watching the trailer on the website, and I heard Tim say that he didn't grow up with the comics, or as immersed in the comics.
HP: No, he didn't. Nicolas Cage did.
PW: So me, I've never read the comics either. I've seen Smallville, and the new reboots of all the Superman movies. I've seen the red and blue streak and everything he symbolizes. I get the whole one god thing, but like in Smallville they had him grow up as a teenager.
HP: Yeah, there are many takes on the storyline, obviously. But the through-line would never have been what Tim Burton was going for. They really were going to go for something completely unique. Clark Kent alone in this would have been a modern day hipster nerd. He was wearing a Mickey Mouse T-shirt, blazer, long hair, glasses, and he really would have been completely hidden.
JS: You would never believe that this kid could be Superman.
HP: That's actually what Nic says in the film, which is the whole point. He just blends. But there are so many iterations of Superman; I think this film and basically any kind of Superman movie is gonna be decisive, because everyone thinks they know their Superman.
JS: Especially with comic books. The whole thing is so tight to the chest. So it's sort of like any change at all, whether you get rid of the red underwear on the outside, people are gonna start crying about it. That's what happened with Man of Steel--and it was going to happen eventually--and ultimately they left the underwear on in the original suit, and then he dies and comes back with a new suit. The change freaks a lot of people out. You can see it in Heath Ledger or Ben Affleck, people crying their eyes out and then changing their minds once they see the film. Especially in the comic book world, they judge you.
PW: All right. Thank you very much! I'm excited for the film, and I wanna swing by the booth and get a copy.
HP: Awesome!
JS: Let people know you can get a copy. You can buy a digital download or a Blu-Ray/DVD at tdoslwh.com.
HP: That's every letter of The Death of Superman Lives: What Happened. You can also find us on Twitter at @TDWSLWH.
You heard 'em, folks! Click that follow button and head on over to the website! It's time to find out the kind of Superman our beloved Tim Burton would have created!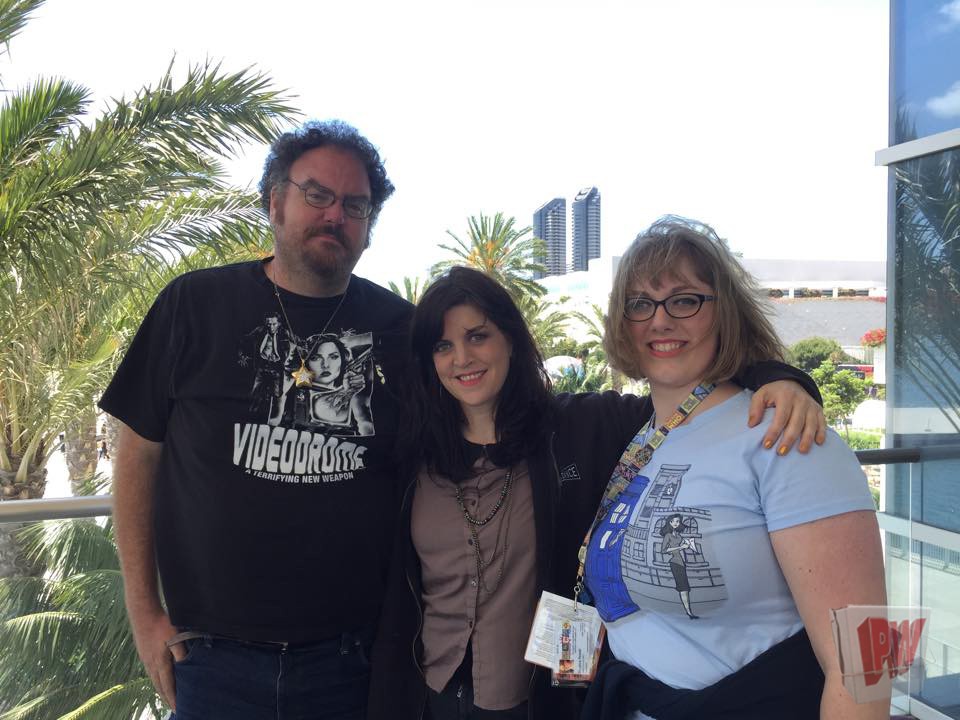 Courtesy of Roxanne Powell/PopWrapped