Oh, Jon Stewart. Purveyor of Truths, Defender of Decency.
I
 salute you. Stewart started a segment about the efficiency of the US Congress, and what their opinions were when it came to dealing with ISIS. Essentially, they were united in one thing: being totally disorganized and pointless. They were divided down the middle yet again (honestly, who's surprised by this?), with half insisting the US President Barack Obama has the authority to declare war on ISIS, while the other half insist Congress should be consulted before any action taken. That is to say, any lack of action is (not?) taken. Fox News,
in all its fantastic reporting
, has instead opted to focus on President Obama's salute of two US Marines with a latte in his hand. Major networks gave attention to this, but out of all of them, Fox gave detailed coverage. Let me repeat: Fox News deemed it worthy, in the world of media which is currently plagued by ISIS and ravaged by Ebola,
to give heavy coverage to the fact President Obama saluted two US Marines with a latte in that hand.
Give some time to sink in. The stupidity is overwhelming, I know. But what can you expect of Fox? I'll feel that second hand embarrassment for you, American friends, so that you may not have to face the full brunt of that emotion on your own. Cause I'm a nice Canadian like that. Eh.
Fox and Friends
 or whatever basically dedicated all their time to trying to drag Obama, saying his actions were callous and disrespectful and insensitive and displayed a total lack of regard for US Marines/men and women (and others) in uniform. And all Jon Stewart had to say on that has been conveniently transformed into a hashtag by moi for your ease of consumption: #ShutUp. Okay, I lied. That's not 
all
he had to say about it.
Shut up. You don't really care. You don't really care about this. You have no principle about this. You're just trying to score points in a game no one else is playing -- here's how we know.
He then played clips of some irrelevant anchor trying to drag Obama, who can be quoted as follows:
It's an arrogance that he portrays...These people are putting their lives on the line for us, show the respect, salute these guys.
Eric Bolling, the irrelevant anchor mentioned above whose name I only included because reviewing the video had Jon say it, said some rather hypocritical things within the same concept, a fact Jon Stewart was more than happy to point out:
Female reporter: The first female pilot, piloting for the UAE...dropped the bombs on ISIS on Monday night. Eric Irrelevant: Would that be considered "boobs on the ground or no?"
Sigh. No doubt thinking it was a clever wordplay on bombs, our friend (*gags*) Eric Irrelevant displayed shocking (not really) amounts of sexism laced with a thick dose of hypocrisy. Wasn't he saying before (or was it after?) that "these people are putting their lives on the line for us, show the respect, salute these guys"...or does it only apply to 
guys
? Jon had a lot to say on it.
First of all, ignore the rampant sexism in that statement. Second of all, she's a pilot, so whatever gender-specific equipment she might be carrying, it's in the fucking air, and thirdly, what was the quote that someone said earlier in your program? "These people are putting their lives on the line for us, show respect", so fuck you and all your false patriotism."
I've only got one thing to add to that.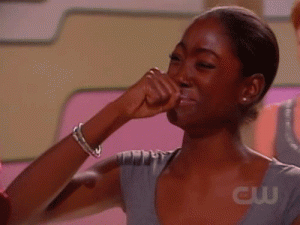 Yaaaassssssss!!!! Slaaayyyyyyy!!!!
Keep Up With PopWrapped On The Web!
Twitter  SoundCloud Facebook Instagram Tumblr Pinterest YouTube