If you didn't know it was him, you probably wouldn't recognize the cute little blonde from
Jerry Maguire
now that he's all grown up. Bringing new meaning to the term "from scrawny to brawny," Jonathan Lipnicki has transformed from a beloved child star (
Stuart Little, Like Mike
) to a kick-boxing hunk of beefed up man flesh. The incredibly down-to-earth Lipnicki credits his active lifestyle and athletic interests for his buff frame. "I like kick-boxing, and working out. I like to be active, I find I'm much more productive when I'm working out and staying healthy."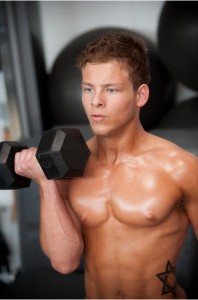 Lipnicki is also trained in mixed martial arts and spends a lot of time at the gym...obviously. Courtesy of Tumblr
Though he earned critical acclaim in the Oscar winning
Jerry Maguire
, Lipnicki stepped out of the spotlight to attend high school and lead a normal life.  "There are a lot of misconceptions when you disappear as a child actor. 'Are they on drugs?', 'Are they partying?', and that's just not me." The 23-year-old is staying busy and making his way back into the business. "I'm so grateful for everything growing up. I'm trying to make the transition properly." The transition includes a movie that is due out next year called
Boone: The Bounty Hunter
, as well as turning his recent short film into a television series:
You Used To Be Cute
. Check it out and see what you think! While I think Jonathan would be a GREAT fit for
The Maze Runner
franchise (anyone here agree with me?!), he would love to do a Johnny Quest movie. "Such a dorky thing, I know," he laughs at the suggestion. Though, I actually think it's a great idea! So, Jonathan has officially proven that you
can
grow up in this business and still be normal. There is no requirement that says child stars have to fall on their faces and end up in the tabloids, and talking with Jonathan was a breath of fresh air. I can't wait to see what's ahead for this guy! And, just in case you're wondering, yes, Jonathan does stay in touch with one of his heroes and former cast mates, Tom Cruise. "I'm such a fan of his career. I definitely look up to him."
Keep Up With PopWrapped On The Web!
Twitter 
SoundCloud
Facebook
Instagram
Tumblr
Pinterest
YouTube