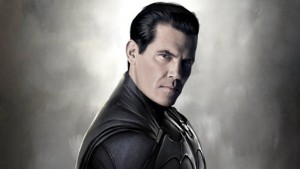 Jonathan Frahm
Staff Writer
Guardians of the Galaxy
and
Avengers: Age of Ultron
has been cast! While Damon Poitier played Thanos in
The Avengers'
after-credits scene,
Josh Brolin will be voicing the intergalactic conqueror
in both upcoming films. Brolin is primarily known for his past film roles as Young Agent K in
Men in Black 3
, Dan White in
Milk
, and Brand Walsh in
The Goonies
. The absolutely best thing about this casting isn't his filmography, though. Much like
James Spader, who will be voicing Ultron
, Brolin is well-regarded for his compelling, idiosyncratic voice. It's deep and can be menacing enough to pull off a convincing villain, I think, and thus should work quite well with Thanos in the upcoming films! Allegedly, Brolin will also be performing the motion capturing for Thanos in both
Guardians of the Galaxy
and
Avengers: Age of Ultron
. Marvel fans, sound off! Are you excited for this casting? Check out the latest trailer for
Guardians of the Galaxy
below. The film is set to be released in U.S. theaters on August 1, 2014.