Most know Las Vegas for its glitter, the late nights and blurry mornings, and the temptation to leave it all your secrets behind.
Josh Evans' Death In The Desert captures that side of the city and more.
Based on the novel by Cathy Scott, the film tells the story of Ray Easler, a millionaire who inherits his father's casino empire. Played by Michael Madsen, Easler is loud and assertive, and eventually becomes downright abusive as his cocaine addiction spirals out of control. Shayla Beesley portrays his live-in girlfriend, Kim, who is in love with him against all reason.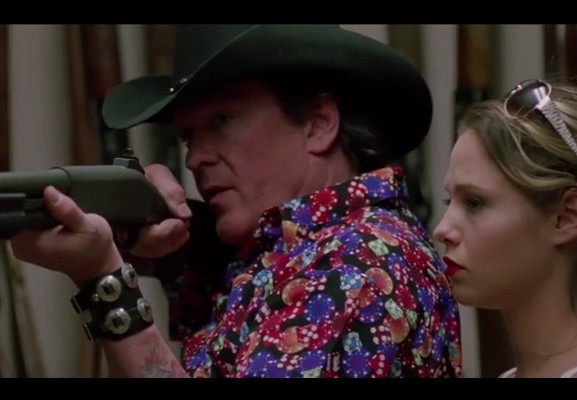 Michael Madsen, Shayla Beesley
The film itself is gritty and, at times, uncomfortable to watch, but that makes it all the more true to life. It's punctuated by sudden cuts between scenes and moments where the dialogue fades, forcing the viewer to focus on the picture without the audio.
It's raw, and doesn't offer all of the answers on a silver platter the way a lot of present-day films do, and he
was kind enough to sit down with me for an interview to talk about his approach to it all. Check it out below.
PopWrapped: What made you want to adapt Death in the Desert?
It's weird but I was actually thinking about that yesterday. Now the whole process is done, the movie's out, you kinda have some perspective.  This project came about because when I look at it and think about it, it was a way to explore a certain territory that I thought had a lot of meat on it. Very base things. It's not a gourmet meal. It's for someone who's relaxed and hungry--I say relaxed because it's not a hyper movie. It's a slow burn. I'm always interested in Vegas, for some reason. When I leave Vegas, I feel like I've never really been to Vegas. It's a mirage, like sugar and salt. They design it that way so you keep wanting to come back for more. This was a story that I thought could be about Vegas, but not the Vegas that the majority experience. It has feelings of--whether we did it in present day or actual to the time period--it has that feeling of old school Vegas. Just the action, not even the background. Very noir characters, modern noir.
PW: What were the most challenging parts about bringing this to life?
I'd say the most challenging part was actually getting the production to get on strong legs once we were in Las Vegas. You might as well be, even though you're only 300 miles away from Las Vegas, you might as well be in Shanghai. It's a whole different world. For better and for worse. You never get locations like that--real, genuine Las Vegas, genuine Las Vegas faces--it's the real West out there. It was a tough shoot, and it was shot in 35. There was so much going on during the pre- production, and we had a little bit of money to hold us until the production would supposedly start, and we were all set to shoot on this digital camera. I saw this Fujifilm, and it was so beautiful. It was nighttime stock, 35mm. It was just stunning and I thought, I'm just gonna buy this film. All of it. To me, once we bought it, I knew I was making a movie. And we had just enough film to make that film. We had a very tight ratio.
PW: Was that nervewracking for you?
No, I like it. It was great. I had a very terrific cinematographer and we'd worked together before, so we had an understanding with each other, a script that I was happy with, and a shot list that I was happy with that I'd spent time working on. So, it was just...once we got in, we had to get to work and get it done. Like a beaver, you know? Right through.
PW: Did you already have an idea in mind of who you wanted to play these characters?
No, I didn't. I knew they were great characters, and I felt that there would be the right person. Obviously when I looked at the whole thing, it was important not only that the main character, but also the other characters were authentically...like, the whole thing with Paz and Roxy, it's like, 'What Vegas is that?' It could be Paris or something. It's a sophistication that I wanted to project onto the place because that's really where it's headed. The downtown scene...there's a lot of energy down there. I went to some great rock and roll clubs and interesting restaurants; there's an art scene that I wanted to infer with Paz and Roxy's characters. Michael had that aspect to him that was both a wild cowboy and also a gangster, and a rascal. This guy was a kid. He was having fun, that turned into misery because we all have to evolve. He was a prince and he was gonna enjoy the fruits of it. I thought that doing the story in modern day actually worked because he was having a hard time not with what you're watching on the camera; he was having a hard time dealing with this new corporate mentality coming into his father's place and understanding gaming, numbers, business. That was not something he was trained to be able to understand, so that made him isolated. So he escaped.
PW: I noticed there were a lot of sudden cuts between scenes, times when conversations were cut off and you would only see their lips moving.
Yeah, I was working on the editing and I would listen to the movie sometimes without even watching it. Just listen to it, as an audio file. And I noticed that sometimes you don't need to hear everything said and I love that...it just made sense. What's funny is, I think we've seen it before, we just don't even realize it. In a lot of movies, maybe not right now, but in quite a bit of movies, the sound is overtaking at times. Especially towards the end of the movie, it becomes almost like a trance.
PW: Is there anything from this movie that you're going to take away and use for future projects?
Every time you get an opportunity to step in and have an army go the direction you ask them to go in, which is a great honor...I take all the films, even though they're very separated, it's almost like they all happen in the same time frame. It almost feels like a continuum. If anything, [this film] just reinforced things for me--reinforced good storytelling, trying to make every scene as strong as possible. It's exactly the movie I wanted to make. I'm at peace with it.
PW: Is that something you've always experienced with every film? Being at peace with what you've done?
I would say yes. Of course, when I look back at them, I go crazy. The amount of time has obviously become more compressed. My first movie I shot, I did the 4:1 ratio too, but it was just a lot of masters. It was super 16 and there was no film. I didn't really know what I was doing--I knew how to try to get something real happening in the scene, almost from an acting point of view, but in this movie, I felt like the shots, the lenses, the camera, the music...a lot of this was about what you don't see. It's a broken movie; it's about broken lives, it's the opposite of resolution. It's a very blunt ending, the whole style.
PW: Why did you want to become a director? What led you here?
Factually speaking, it was by default. I was an actor, so I learned about storytelling through that. And then I was an out of work actor. It was a hot day in LA and we had this idea and we thought, 'This would be a great script. Let's find a writer.' We couldn't find a writer, so we wrote it. I'd never written anything, but I just loved the process. We spent like six months trying to get a director, so I directed it. I loved directing and writing, and still do. I identified with the process--it has all the aspects that I really like. From the camera to the sound to the scheduling...there's nothing I don't really find compelling about it.
Death In The Desert is available on iTunes.