Tune in tonight as FOX invites you to watch the premiere of their new summer mystery thriller
Wayward Pines
  at 9 pm. Starring
Matt Dillon, Juliette Lewis, Terrance Howard, Melissa Leo, and Carla Gugion
, just to name a few. Now that's a cast!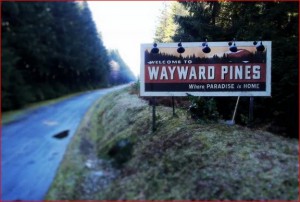 The plot thickens as Secret Service agent Ethan Burke arrives in the bucolic town of Wayward Pines, ID, on a mission to find two missing federal agents. But instead of answers, Ethan's investigation only turns up more questions. What's wrong with Wayward Pines? Each step closer to the truth takes Ethan further from the life he knew, from the husband and father he was, until he must face the terrifying reality that he may never get out of Wayward Pines alive. Please check back in with us next week, we will feature a Q and A from Wayward Pines Executive Producer
Chad Hodge
. Enjoy the show.
Keep Up With PopWrapped On The Web!