Shane Avery
Senior Staff Writer
@ShaneAvery
He just continues to charm doesn't he?? Justin Bieber's recent trip to the Cannes Film Festival seemingly ended with no drama, but all of that changed when a new report hit the internet. Justin was partying at Gotha nightclub when he reportedly got into an altercation with a male club goer. Here is what is being reported: Justin was sitting on a couch in the club with this male patron, when a female fan spotted Justin and made her way to him. She reportedly climbed over the couch to get to Justin, and when he noticed her he shoved her, which resulted in her falling down. The other male took exception to this and began a shoving match with Biebs. Justin was then hauled off by his security detail (
which you can see in the photo below; Justin would of course be the shirtless one):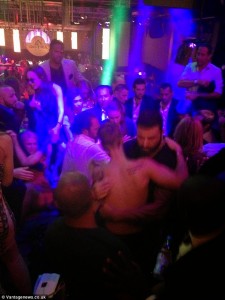 Courtesy of Daily Mail
The club then blacked out, so Justin could make his exit without anyone seeing. He would return a short time later to a different table and out of view. What do you guys make of this? Let us know in the comments!
Keep Up With PopWrapped On The Web!