ADORABLE!! Justin Timberlake and Jessica Biel have surprisingly wasted no time in showing the world their little bundle of joy. The proud new parents (and more specifically father) showed off the very first photo of little Silas Randall Timberlake on Justin's Instagram and he's as cute as you could have imagined.
Justin captioned the photo: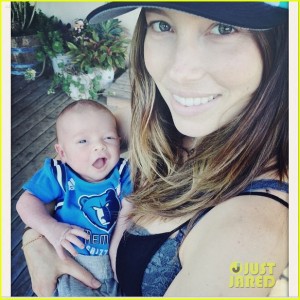 JustJared
"The Timberlakes are ready!!! GO GRIZZ! #GritNGrind #Playoffs #BabyGrizzROAR,"
It's been just over a week since Jessica gave birth to the little guy, and she looks AMAZING in the photo. She's got that motherly glow! Seriously though, I need more pictures. MORE. He's too cute!!