Kaci Hickox's lawyer, Norman Siegel, told
Reuters
on Sunday that Hickox's quarantine raised 'serious constitutional and civil liberties issues' and
today, via Skype
, from her hometown of Fort Kent, Maine, she told
Good Morning America
she will go to court to attain her freedom. Speculating about the possibility of a lawsuit from the nurse, New Jersey Gov. Chris Christie said, 'Whatever. Get in line. I've been sued lots of times before'. He told the
reporters
'she was inside the hospital in a climate-controlled area with access to her cell phone, access to the internet, and takeout food from the best restaurants in Newark', but
CNN
's Vaughn Sterling tweeted photos of Hickox's outdoor isolation tent at University Hospital in the city.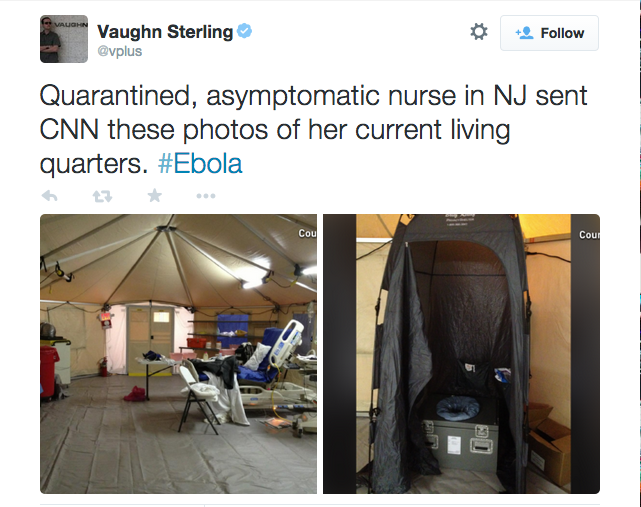 Courtesy of Twitter
Maine Gov. Paul LePage said 'we hoped that the health care worker would voluntarily comply with these protocols, but this individual has stated publicly she will not abide by the protocols.' 'We are very concerned about her safety and health and that of the community.' Hickox, 33, who volunteered in Sierra Leone with
Doctors Without Borders
, arrived at Fort Kent on Monday and was the first person forced into New Jersey's mandatory quarantine for people arriving at the Newark airport from three West African countries. State health officials detected she had a slight fever - a common symptom of Ebola. Hickox's decisions divides opinions. Mike Adams, from
Natural News
, explains, 'A person who is carrying Ebola and replicating Ebola inside their own blood will test negative for Ebola for up to six weeks. The test won't show a positive result until the virus has replicated to a sufficient quantity to be detectable.'
New York University
bioethicist Arthur Caplan said "in the fight against Ebola some government officials in the U.S. are now managing fear, not the virus. Quarantining those who do not have symptoms is not the way to combat Ebola. " Caplan has listed
7 reasons
why Ebola quarantine is a bad idea, number 2 being:
Quarantine is next to impossible to enforce.
'If you don't want to stay in your home or wherever you are supposed to stay for three weeks, then what? Do we shoot you, Taser you, drag you back into your house in a protective suit, or what? And who is responsible for watching you 24-7? Quarantine relies on the honor system. That essentially is what we count on when we tell people with symptoms to call 911 or the health department.' Since the 1927 case of
Buck v. Bell
in which the court upheld a state's involuntary sterilization of "feebleminded" persons in state institutions, the government has had
the power to legislate for its citizens' health and welfare
recognized, even in cases adults require to be dealt with by compulsory treatment such as quarantine, confinement or sequestration. Kaci Hickox's fight surely reminds that of Mary Mallon's, now known as Typhoid Mary, the first "healthy carrier" of typhoid fever in the United States. She infected 6 people before being "captured" and put in isolation for 2 years and other 25 after being released. Let's hope Hickox has better luck than the other one, and also those around her.
Keep Up With PopWrapped On The Web!