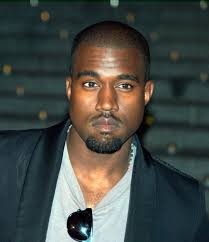 So many words and phrases running through my head to describe Kanye West...but I'll keep those to myself. Over the weekend,
Kanye was performing
at the 
Qantas Credit Union Arena in Sydney, Australia when he had yet another 'foot-in-mouth' moment. West demanded that the entire audience stand during his performance of the song "Good Life," saying that he could not go on until the entire crowd were on their feet 

"[u]

nless you got a handicap pass and you get special parking and shit."
Everyone obliged, expect two men in the audience. The one man, who in fact had a prosthetic leg, didn't get off the hook until he waved it in the air for the rapper to see. The other fan, who was in a wheelchair, obviously couldn't stand up. A fan account of the incident goes as follows:
But when another fan remained seated, he stopped the song Good Life, saying, 'This is the longest I've had to wait to do a song, it's unbelievable,' before sending bodyguard Pascal Duvier into the arena to check whether the person was in fact in a wheelchair- which they were.
"The crowd was also yelling that he was in a wheelchair but he waited for Pascal's confirmation," the witness said; while others that crowd made "wheelchair motions" to alert the singer to his mistake. Talk about giant idiot, making your bodyguard check into why audience members weren't standing. I'm glad that Kanye is 'fine' with his fans being in wheelchairs. Take a look at the video below to get an idea of just how long West was willing to wait until everyone was standing.
Keep up with PopWrapped on the web!
Twitter SoundCloud Facebook Instagram Tumblr Pinterest YouTube