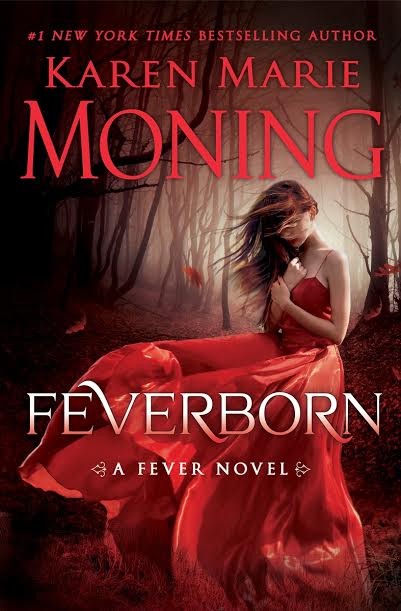 Like the title of this review, having just recently finished the eighth volume in Karen Marie Moning's exquisite FEVER series, FEVERBORN, I found myself stunned into a flurry of confused emotions. Not knowing whether I should cry, scream, worship, rage or pass out, my body's reactionary devices ran the gambit. 
To name just a few:
Shock

Anguish

Happiness

Satisfaction

100% dissatisfaction coupled with an urgent desire to send a very strongly worded message to the author to express just how disgruntled I was. (Instead, I sent her this: "Holy. Fucking. Shit. I have no words. I'm going to try and find some though. You are an evil genius, mastermind, wizard, maestro woman and I think that's all I can muster at the moment. Also, I mean all of this in the most complimentary way. Despite what my inane, reactionary messages may imply lol.")
Do you see how utterly unhinged I was? I don't, as a rule, message famous and fabulous authors that I adore after finishing their books. But FEVERBORN took me so completely by surprise that I NEEDED to share those feelings with the woman whose mind never ceases to amaze me. Whose ability to weave an intricate web of subtle hints and vivid imagery so masterfully that the scenes being described on the page flash brilliantly in my mind's eye the whole way through has seen me through many a dark day.
Fans of the series will find that it's there. All of it. The intrigue, the suspense, the raw emotion, the sexual tension-- and then, finally, the agonizingly exquisite release-- the action, the twists, the tenderness. All of the aspects that makes Moning the powerhouse novelist that she is are present and accounted for... except this time it's all just... bigger. Better. MORE.
FEVERBORN is at once the most gratifying and infuriating (in the best way possible) volume in the series yet. Moning's proclivity for passion, emotion and shocking twists is showcased in breathtaking clarity with FEVERBORN; and I can damn near guarantee that fans of the series will be panting, both with heat, and a frenzied need to know what happens next.