Behold the magic of theatre—and costume changes.
Yes, during the Tonys performance of Broadway hit The King and I, Kelli O'Hara created a whirlwind when her quick change was caught on camera and the world went wild.
During the performance, Kelli O'Hara had to run off stage mid way during a performance to do a 40-second quick change, which she accomplished with style and finesse.
Welcome to the beauty of smoke and mirrors, and how theatre can make something seem seamless (pardon the pun).
Ever thought being an actor was easy? It's tough going.
Observe the quick change below.
She had a team behind her, but it was a smooth feat of engineering, which transported the audience into a magical world where a 40 second change of clothes can happen—and any person heading out on the town on a Saturday night will tell you that does not happen.
Playbill tweeted about the quick change, and it went viral. It was well-orchestrated, choreographed, and was perfected to a tee.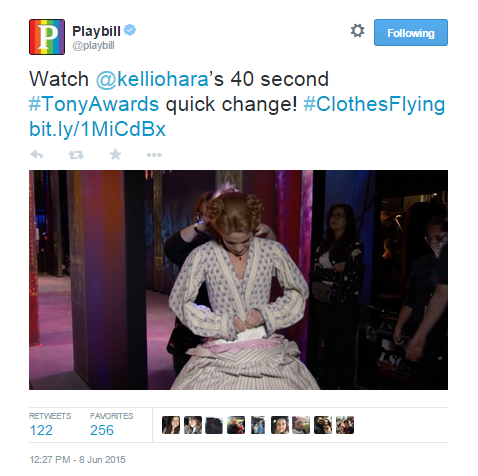 Credit: Twitter
Broadway actors are some of the hardest working in the biz, and should really be given more credit for how seamless they make these transitions.
Kudos, folks.
So PopWrappers, what did you think of the quick change? And what was your favorite performance at the Tonys?