Because there is nothing more this world needs than a hard cover book filled with pictures of Kim Kardashian! The oh-so giving Kim Kardashian has once again showed us her, er, selfless side! The idea for her new release was realized when she took over a thousand photos of herself to give to her hubby as a birthday gift... A gift that is only applicable if you are Kim Kardashian, but so came along her new book idea to fill a book, of pictures of herself and sell it for $19.99.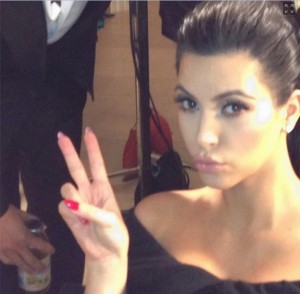 Courtesy of Kim Kardashian/Instagram
Although logically the better idea would be to just follow her
Instagram account
and check out all the dozens of selfie's already uploaded; thoughit seems that 
Rizzoli's Universe
imprint only sees potential! "It will feature many never-before-seen personal images from one of the most recognizable and iconic celebrities in the world... Hailed by many (including Givenchy designer Riccardo Tisci) as the modern-day personification of Marilyn Monroe, Kim has become a true American icon." There are even said to be some never before seen photos, because apparently we have not seen everything there is that makes Kim Kardashian. Now love or hate her, the woman knows how to take a selfie whether it be of her perfected pout or bodacious booty she knows what she's doing! And well what else is she going to do with that many selfies? If you're chomping at the bit to get your hands on this
Selfish
endeavor of Kim's, her book hit shelves April 7, 2015.
Keep Up With PopWrapped On The Web!