Eastman Kodak Company has been around for more than a century and their cameras have helped form the arts of photography and filmmaking as we know them today. Specifically, Kodak's Super 8 camera was the tool many of our top directors used as kids when they were honing their skills. Sam Raimi and Bruce Campbell cut their teeth with a Super 8 camera long before hitting it big with the cult classic Evil Dead movies. Steven Spielberg, J.J. Abrams and Quentin Tarantino all used Super 8 cameras.
Kodak took the opportunity this week at CES to announce the return of the much beloved classic camera. The new Super 8 camera will still maintain the analog charm filmmakers love, but it has been updated with some digital features like a viewfinder and microphone. Twenty-year-old cartridges from the original Super 8 will be compatible with the updated camera. And once film has been shot, the cartridges will be sent off to Kodak for developing. Kodak will then upload a digital version of the film for customers and ship them a reel-to-reel 8mm version to screen on a projector.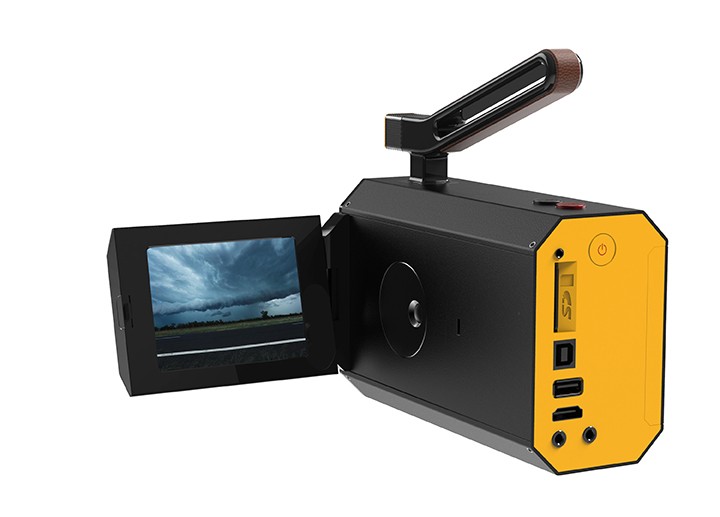 Kodak
Kodak's CEO, Jeff Clarke, talked about the passion behind the camera saying, "It's a symbol to what Kodak cares about in our commitment to film." The original Super 8 camera debuted in 1964 at the World's Fair in New York. The updated version is Kodak's first film camera since the release of the last Super 8 in 1982.
Filmmakers seem overjoyed at the return to analog. Quentin Tarantino said of the announcement, "When you're filming something on film you aren't recording movement, you're taking a series of still pictures and when shown at 24 frames per second through a lightbulb, THAT creates the illusion of movement. That illusion is connected to the magic of making movies. The fact that Kodak is giving a new generation of filmmakers the opportunity to shoot on Super 8 is truly an incredible gift."
The new camera will be aimed at film schools and amateur filmmakers and are expected to go on sale in the fall. The new Super 8 will cost anywhere from $450 - $700 and the film should cost around $50 to develop. A cheaper version for more casual users is expected in 2017. Join Kodak's mailing list on the website for the latest updates!