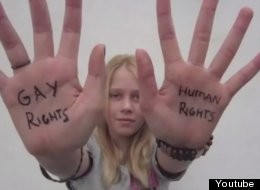 Courtesy of Huffington Post
Sylvia Le Mat
Staff Writer
@PetitGizmo
"The Story of Larry and Gerald"
is the title of a minute-long stop-motion animated film made by Scarlett Dennis, a 7th grader from Los Angeles.
Her touching video
shows what gay people have to go through when it comes to something as simple and natural as love. It ends on the following question:
"Why is it in this country that a heterosexual couple who have just met can get married but a homosexual couple who have been in love for years cannot?"
Scarlett,
you're not the only one to ask yourself the question, trust me. Thank you for doing this amazing project, and thanks to your teacher for posting it on YouTube. As you say at the end of the video,
"Love is Love."
You're right. Love is every color, every "gender," every beating heart, and I'm not saying it because it's Valentine's Day.  It's just because I strongly believe it.
Keep Up With PopWrapped On The Web!
http://www.PopWrapped.com http://www.Twitter.com/PopWrapped http://www.SoundCloud.com/PopWrapped http://www.Popwrapped.Tumblr.com http://www.Facebook.com/PopWrapped http://www.Instagram.com/PopWrapped http://www.Pinterest.com/PopWrapped http://www.YouTube.com/PopWrapped