Lady Gaga blew everyone away with her extraordinary
Oscar performance
in tribute to "The Sound of Music's" 50th Anniversary and proved once and for all (to her haters) that she's a damn good singer. Gaga's salute to "The Sound of Music" was so breathtaking and powerful that Julie Andrews was moved to tears, exclaiming, "Thank you for that. It really warmed my heart." It warmed everyone else's heart as well when Andrews stepped on stage and enveloped Gaga in a warm and appreciative hug.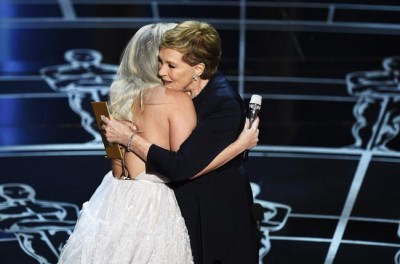 Courtesy of Billboard.com
Gaga, who looked absolutely stunning dressed in a heavenly sliver and white gown, belted out a sweet harmonious melody that combined "My Favorite Things", "Edelweiss" and "Climb Every Mountain". The performance got twitter in a frenzy and had fans shouting "Slay!" Lady Gaga has proven once again that she's brimming with endless talent and that she'll be sticking around for a good long while. Hats off to you, Lady Gaga!
Keep Up With PopWrapped On The Web!