For a while now, Lana Del Rey has kicked off the era for her forthcoming, third studio album, titled Honeymoon. With the record making its way to the stores in less than a month, the songstress has now unveiled the official cover art and tracklisting for it.
The album cover, seen above, is indeed all kinds of vintage and finds Lana Del Rey looking outside her StarLine Tours truck. In fact, there's a phone number on the car, which you can call and listen to a couple of the songstress' new tunes, including "High By The Beach". The tracklist doesn't do much, other than basically reveal the song titles, but does hint at a couple of treats. To begin with, the final track "Don't Let Me Be Misunderstood" serves as a cover of Nina Simone's original. In addition to that, the interlude "Burnt Norton" is titled after TS Elliot's well-known poem. See the entire tracklisting below.
"Honeymoon"
"Music To Watch Boys To"
"Terrence Loves You"
"God Knows I Tried"
"High By The Beach"
"Freak"
"Art Deco"
"Burnt Norton" (Interlude)
"Religion"
"Salvatore"
"The Blackest Day"
"24"
"Swan Song"
"Don't Let Me Be Misunderstood"
So far, Lana Del Rey has graced us with the title track, "Honeymoon", while she has also properly released the official lead single "High By The Beach". The songstress has now unleashed another new track from the record, titled "Terrence Loves You". 
Apparently, there's also a red vinyl version of the album, provided exclusively by Urban Outfitters, and it has a different cover which you can check out below.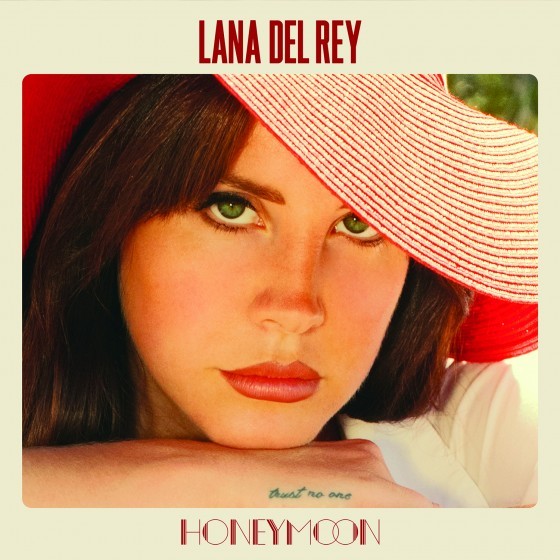 Courtesy of popcrush.com
Honeymoon is expected to come out on September 18, but you can now pre-order it here.