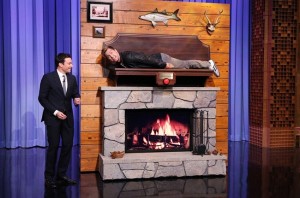 Courtesy of Billboard
Laura Barnett
Staff Writer
Past 'NSync member, future space explorer and present day fiancée, Lance Bass, made a surprise guest appearance on
The Tonight Show with Jimmy Fallon
this week. Was he on the show to discuss his upcoming nuptials? Nope! Taking another shot at rocketing through Earth's atmosphere? Nope! Why then?! Lance Bass took the stage as the world's favorite panel-walled-basement-decoration, Billy Bass! Lance even got the dance moves right. He rivaled his own "Bye, Bye, Bye" choreography by nailing down the perfect fishtail wag and impeccable lyrics of "Take Me To The River." Even Jimmy couldn't contain his laughter. Check out the video below. http://youtu.be/HZ1kcq_j54s Make sure to look out for Lance's wedding,
to be televised on E!
this winter.
Keep Up With PopWrapped On The Web!