Host John Oliver started off this week's episode of Last Week Tonight by discussing the Republican primary in South Carolina. Trump won, by a massive margin, which surprised Oliver, given that earlier in the week the Pope implied that Trump is "not Christian". Oliver called the feud a "battle between an infallible source and an illogical object". This segment also saw the return of one of my favourite Last Week Tonight hashtags: #NotMyChristian. 
The Supreme Court was the next big news item to be discussed. As the show touched on last week, the Republicans have committed themselves to blocking President Obama's appointment. Prominent Republicans have referred to precedence, highlighting an 80 year old unofficial rule. After playing clips of each one explaining this precedent, Oliver introduced us to Supreme Court nominations demonstrating that the rule hasn't always been followed. 
An organization called the Judicial Crisis Network (JCN) released an ad, encouraging people to vote for the next President, because "the next President will nominate the next Supreme Court Justice". Their "we the people" ad was hilariously filled with commercially available stock footage, and, as the show pointed out, the problem with that is anyone can use the same footage to give the exact opposite  message. The segment ended with Last Week Tonight's amazing version of the same JCN ad. 
The main segment was about abortion law in the United States, which Oliver began by cleverly comparing them to breast implants. He acknowledged that personal views on abortion are on "a spectrum", and that the issue isn't as black and white as some believe it to be. In a Gallup poll conducted in May of 2015, most people believe it should be legal in at least a few circumstances. Only 19% of people polled believe it should completely illegal, and those 19% were subsequently excused from watching the remainder of the segment. As a reward for sticking it out, though, Oliver promised viewers a video of a bucket full of sloths. Thanks Last Week Tonight - this is going to be a tricky topic to get through.  
Oliver told us that those of us who believe that abortion should be legal, either in limited circumstances or more widely available, should be concerned. Nearly 70 clinics across the United States have been closed since 2010, and there are four states where there is only one clinic per state. The reason is that Roe v. Wade was replaced by a 1992 decision, Planned Parenthood v. Casey, as the precedent setting case governing abortion laws. It ruled that states are allowed to put whatever restrictions they choose, as long as it doesn't put "a substantial obstacle in the path of a woman seeking an abortion". 
The vague wording and unclear meaning of "substantial obstacle" has allowed some states to implement what are called "T.R.A.P. laws", or Targeted Regulation of Abortion Providers. The regulators who support these laws claim that those laws are put into place to "protect women's health", to what Oliver called a nearly "eerie degree". He broke down these laws, and examined the benefits they actually have on women's health.
Beginning in Texas, with HB-2, which passed a few years ago, and requires, among other things, doctors to have hospital admitting privileges and high building standards. On the surface, these elements seem like beneficial elements to have codified. In reality, however, small clinics are being held to the same standards as busy hospitals. For example, there is a requirement for hallways to be wide enough to fit two surgical gurneys side by side, which is not something that happens in a small clinic. In fact, over 90% of abortions happen in the first trimester, which don't require a large surgical facility to accommodate. Oliver points out that "you don't need a surgical room to take a pill".  
The requirement to have hospital admitting privileges is a law that ten other states have also passed and has caused many clinics to shut down. Some hospitals, for political or financial reasons, simply won't grant admission privileges to doctors who perform abortions. Further, the American Medial Association and the American College of Obstetricians and Gynecologists have both said that there "is simply no medical basis to impose a local admitting privileges requirement on abortion providers". Oliver also pointed to a 2012 CDC study, which found that legal abortions have a mortality rate of 0.00073%, which is ten times less than the risk of dying from having a colonoscopy. In addition, Texans can run a birthing centre without having hospital admission privileges, which is admittedly weird. Very few women need emergency medical care after a legal abortion, where as 12% of women admitted to a birthing centre required hospital admission while in labour. 
Proponents of these restrictions often point to extreme cases, such as one Pennsylvania clinic that had not been inspected in 17 years, which "it absolutely should have been". No one is calling for abortions to be performed without regulation, simply that these regulations be reasonable. 
They didn't need new laws so much as they needed to bother to enforce the ones they had. 
Other laws require providers to "actively spread misinformation". One provider even goes so far as to explain to women what the state requires him to say, and carries on to give them the accurate information, saying "they can require me to tell you the first part but they can't stop me from giving you my best medical opinion". Another provider cashed in his retirement savings, spending close to a million dollars, in order to comply with new regulations. The response from Alabama, his state, is to try and pass a bill saying that abortion clinics can't be within 200 feet of a school. Essentially, treating providers and their patients as sex offenders, when they are very clearly not. Oliver called the move "a reverse Cosby". 
Women can't always simply travel further for access to these services, and in some cases, even when they do, they are turned away. Oliver highlighted the tragic story of a 13 year old victim of sexual assault, who travelled hours to her nearest clinic only to be turned away. 
Abortion can't just be theoretically legal, it has to be literally accessible.
Oliver acknowledged that this particular segment was difficult, and not "the ideal way to go to bed on a Sunday night". I will say that his unique blend of humour, satire, and fact, made the hard moments easier to handle. And, as promised, he ended the show by presenting his audience both a video of a bucket filled of sloths, and an actual sloth in a night cap. Watching Oliver feed a sloth was indeed the best way to go to bed on a Sunday night.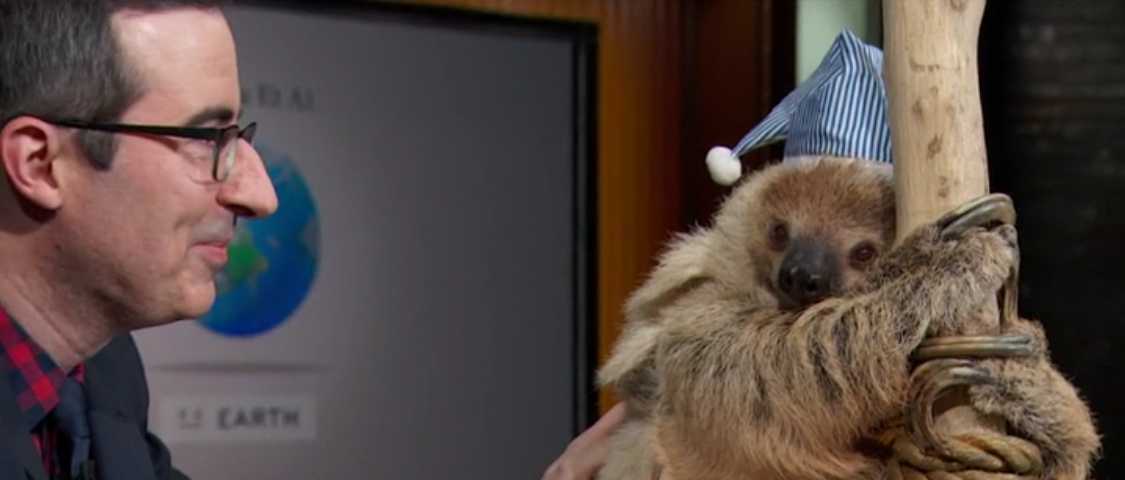 HBO
You can watch the entire segment below. Last Week Tonight with John Oliver will return next week at 11:00 on HBO.