Last Week Tonight has returned from being on hiatus for four incredibly long weeks. While the main segment explored the various political scandals plaguing both Hillary Clinton and Donald Trump, the show began, as always, by briefly recapping what had happened while they were away (winning Emmys!).
Host John Oliver began by discussing the protests in Charlotte, North Carolina, which began after yet another police officer shot a Black man. After offering nonsense excuses, such as "transparency is in the eye of the beholder" in an attempt to justify keeping the video from the public while still insisting that things are transparent, it was finally released to the public.
The show also talked about the latest legal mess surrounding Wells Fargo Bank, a bank that somehow managed to give banks an even worse name. The employees would regularly open new accounts under customer names, without being asked, and collect on the various fees and service charges that accumulated. Because the customers didn't actually open the accounts themselves, all identification information associated with the account, such as personal identification numbers, passwords, and email addresses would be unknown, making it virtually impossible to close the excess accounts.
The main segment focused on the upcoming American election, "or, as it's more commonly known, the electoral equivalent of seeing someone puking so you start puking and then someone else is puking and pretty soon everyone is puking 2016". The first debate is this evening, and it is being highly anticipated -- not so much because we want to see candidates Hillary Clinton and Donald Trump debate about policy but because everyone knows it will devolve in to a debate about their respective ethics as individuals.
Oliver pointed out that scandals dogging candidates on the election trail aren't anything new, but, in this particular case, they seem to have defined each campaign. A recent survey found that less than half of the respondents found either candidate trustworthy, with many people citing controversies on either side as being the main reason why.
Last Week Tonight opted to take tonight to educate their viewers on the nature, extent, and implications of the major scandals plaguing either candidate. The intent was to compare the extent and effect of each scandal on each of Clinton and Trump as President. Last Week Tonight did just that and followed it up with a brilliant visual metaphor to drive the point home.
They began with Clinton, acknowledging that it might upset some viewers to even mention her potential shortcomings, "given that her opponent is an unambiguously racist scarecrow stuffed with scrunched up copies of Juggs magazine, and that's fair". However, simply being better than Trump shouldn't be the only requirement a Presidential nominee has to meet.
A number of the biggest scandals facing Clinton right now have been heavily litigated in the past, meaning that there is a pretty solid paper trail of court documents and statements given under oath to serve as evidence. Numerous congressional hearings and independent investigations into situations such as Whitewater and Benghazi failed to turn up any specific wrongdoing or criminal action on her part.
There are two situations that nearly half of Americans are concerned about when it comes to Clinton: her use of a private email server and the Clinton Foundation. Last Week Tonight began with her emails, which "you may remember from their starring role at the Republican National Convention". The issue began in 2009, when she first took office as Secretary of State. At the time, BlackBerry devices weren't capable of accessing two separate email addresses, and, rather than carry two different devices, Clinton simply routed all her email through a private server, so she could access both personal email and state email through one account on one device. (As an aside, it's pretty crazy to think that the whole thing could have been avoided if the government issued iPhones.) Why didn't she just have her personal emails go to her work account the way most people do? Well, they would have been easier to access by members of the media. What Clinton did, instead, was have all her government emails go through a private sever, which, it's important to note, isn't illegal. It is, of course, highly discouraged. Still, she's not the only member of government to have used a private email address for government business. Other names include: Colin Powell, John Kerry, Chris Christie, Jeb Bush, Rick Perry, Scott Walker, Martin O'Malley, Bobby Jindal, Sarah Palin, and Karl Rove, just to name a few.
The FBI investigated Clinton's use of a private address on a private server, and, while they did find that Clinton and her staff had been careless, there was nothing bearing criminal charges.
The second situation surrounding Clinton that many voters have trouble with is the Clinton Foundation, a charitable foundation set up by Hillary and her husband, former President Bill Clinton. There is no doubt that the Foundation did good work, including helping millions access HIV/AIDS treatment. Instead, there is some suspicion that Clinton may have acted favourably toward governments that later gave her foundation large sums of money. By and large, her foundation complied with a Memorandum of Understanding filed with the Obama administration when Clinton was appointed as Secretary of State, but there were a few exceptions. Most notably, there is the question of a donation by Russia, which happened as the State Department approved the sale of a Uranium mine to the Russian government.
That looks awful. As Oliver pointed out, "there are so many not-good words in that soundbite: Russia, Uranium, controlled, big money, and not disclosed". However, subsequent investigations found that Clinton was not involved in the decision to sell the mine, and there were eight other federal agencies, plus the Nuclear Regulatory Commission, that also approved the sale. When all is said and done, the donation was "legal, but very annoyingly handled". In fact, when you look at each and every scandal surrounding Clinton, they seem to be "irritating, rather than grossly nefarious".
At this point, we need to compare her scandalous situations to those facing Republican candidate, Donald Trump, "America's wealthiest hemorrhoid." Oliver points out that, if the controversy surrounding Clinton is enough to prevent you from casting your vote for her, it's a good idea to compare those situations to Trump. For starters, many Clinton detractors cite her as being untrustworthy and given to lying. PolitiFact checked statements made by Clinton and found that about 13 per cent of them were indeed false. However, they also checked the same number of statements made in the same time period by Trump and found that 53 per cent of his statements were false. Trump lies more than half the time, and that's just the start of it.
Trump is the first presidential candidate in over thirty years to refuse to disclose his tax returns, and his justification for keeping them hidden is, to be blunt, bullshit. He says that he is under audit at the moment and, therefore, cannot release his returns. However, the IRS has repeatedly and consistently said that anyone currently under audit is at liberty to release their returns. Even being confronted with that information, Trump has still opted to keep his returns private.
Even setting aside his own personal finances, there are a ton of questions and concerns raised over his business deals, with many pointing out that, were Trump to be elected, it would cause "unprecedented ethical challenges". One way to get around these ethical dilemmas would be for Trump to put his various companies in what is known as a blind trust, where an independent third party would then make business decisions. Unfortunately, Trump doesn't even seem to understand what a "blind trust" is nor does he have a solid grasp of the concept of a "conflict of interest". When presented with the issue, Trump insisted that his children would be able to run his companies, and the public should simply trust that there would be no ensuing conflict of interest.
Oliver moved on to talk about the Trump Foundation, noting that, "if the financial actions of the Clinton Foundation annoy you, let me introduce you to the Trump Foundation". Trump's Foundation is the subject of an in-depth investigation by The Washington Post, which found that the Foundation spent nearly a quarter of a million dollars to settle personal lawsuits against Trump and businesses he owned. This money came as a direct result of donated funds -- and not funds donated by Trump. In other cases, Trump used Foundation money to make extravagant purchases that benefited him or his companies personally, not other charities or causes. This is blatantly illegal.
At this point, there wasn't enough time left in the show to cover the other scandals and questionable situations surrounding Trump, including the lawsuits involving his "not University University" to the alleged use of undocumented workers in construction projects to an illegal loan given to him by his father. While Clinton is certainly no angel, Oliver urged viewers not to view hers as equal in nature, extent, or effect as Trump's.
"This campaign has been dominated by scandals but it is dangerous to think that there is an equal number on both sides. And you can be irritated by some of Hillary's, that is understandable, but you should then be fucking outraged by Trump's."
Oliver, then, used the perfect visual aid to illustrate his point.
"Ethical failings in a politician are like raisins in a cookie; they shouldn't be there. They disgust people. But most politicians have at least a few raisins."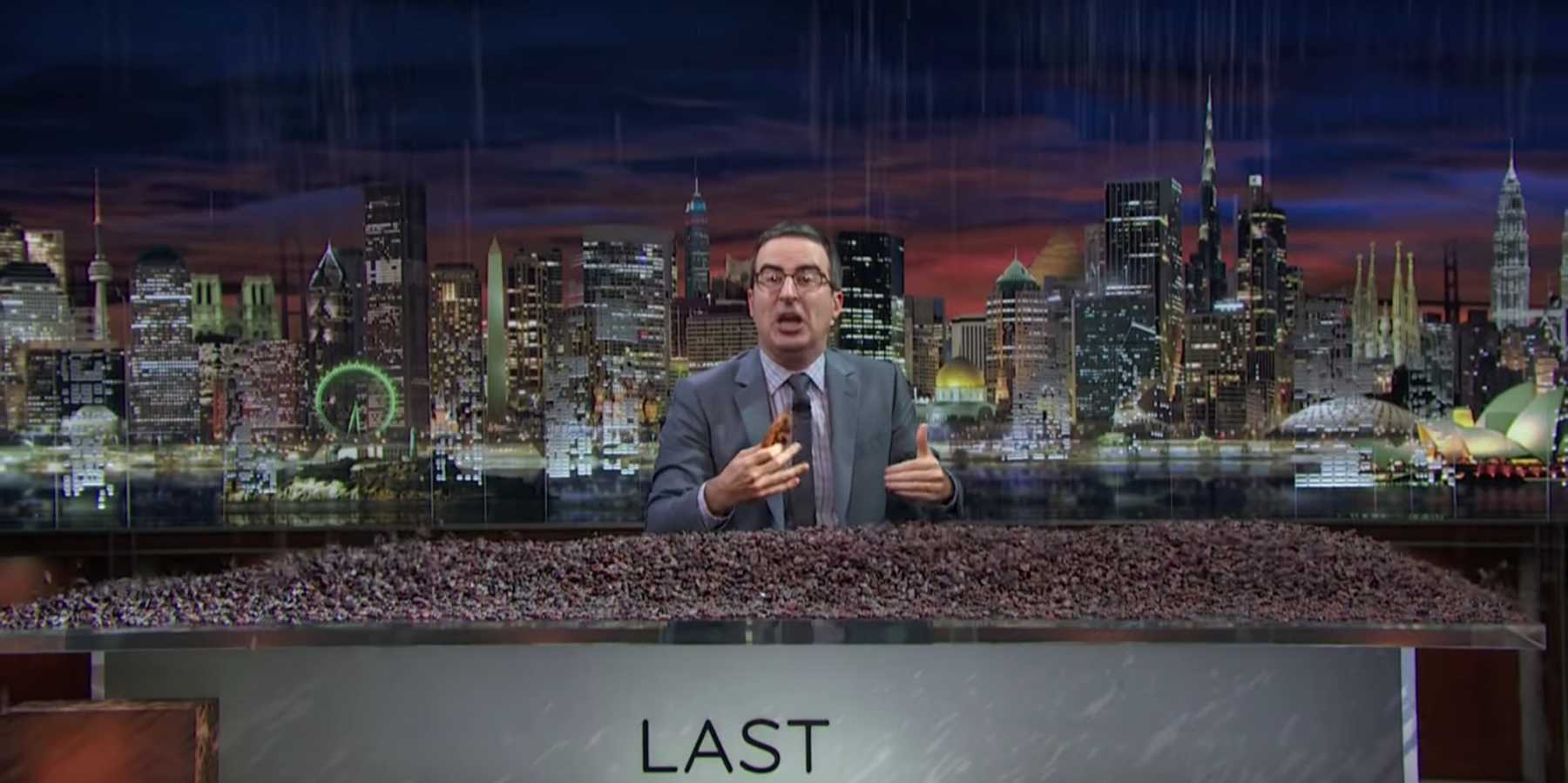 YouTube
Hillary, Oliver pointed out, likely has more raisins than the average politician. He estimated that there's approximately "ten of those fuckers in there". Trump, however, "is a raisin monsoon; he is ethically compromised to an almost unprecedented degree". We may all hate raisins, "but, come November you're going to have to swallow all ten, or we're going to be eating this shit for years." All this was said as he basked in a shower of raisins (apparently forgetting the food waste segment they did last year). 
Best Lines
"We have missed a lot. From Apple introducing a cutting edge new way to lose their product ... to, just this week, a nightmare [Ted Cruz] endorsing a panic attack [Donald Trump]."
"[regarding a journalist's facial expression after hearing North Carolina congressman Robert Pittenger make some incredibly racist comments about the protestors] ... it's half confusion and half wonder at witnessing that kind of racism being spoken aloud instead coming out of a Twitter egg named @aryanthehendersons."
"That's like a Russian nesting doll where the last doll is giving you the finger."
"'The Fraud Was Baked In', which I believe is also the title of Martha Stewart's autobiography."
"The fact is, the Swiss File Transfer is something I just made up right now, but the very fact that for a second you kind of remembered it says something about the tone of coverage surrounding Clinton."
You can watch the main segment below. Last Week Tonight returns next Sunday at 11:00 p.m. on HBO.