Last Week Tonight used Sunday's episode to discuss sex education in the United States or, to be more accurate, the lack of sex education in many states.
The segment opened with a montage of vintage sex ed videos, including a particularly hilarious one starring Breaking Bad's Jonathan Banks. Oliver proceeded to explain the importance of sexual education in schools, quite accurately pointing out:
No parent wants to talk to their kids about sex, and no kid wants to talk about sex with their parents. That is why when you're watching a movie together and there's a sex scene, everyone becomes motionless and silently begs for the merciful release of death.
He then showed a random sample of questions kids had about sex but were obviously too uncomfortable to ask their parents illustrating the need for kids to have someone to to answer those questions for them. Unfortunately, there is no federal standard for sexual education in the U.S., and only 22 states require sex ed to be taught at all. Of those 22 states, only 13 mandate that the information be "medically accurate", which is absolutely frightening.
The show highlighted abstinence-only education programs, designed to shame kids away from sex and often include guest speakers who try to "yell the horniness out of teenagers". Abstinence-only education often devalues women, comparing them to old, used-up items, implying that sexual activity makes them worthless. This kind of language is exceptionally damaging to sexual abuse survivors.
Oliver continued to discuss the importance of consent in sexual education programs, saying that "sex is like boxing; if both people didn't fully agree to participate, one of them is committing a crime". Repeated studies have shown that college students are confused by issues of consent, or that they understand and simply don't care. Abstinence-only education does absolutely nothing to solve the problem, ignoring the concept of informed, enthusiastic consent altogether.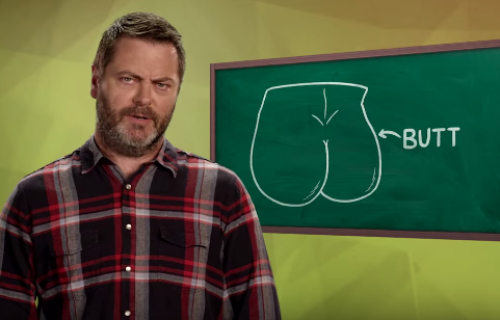 Courtesy of Last Week Tonight
In an attempt to help kids who lack access to practical, accurate sexual education, Last Week Tonight offered their own sex ed video, featuring Laverne Cox, Kristen Schaal, and Nick Offerman, among others.
Watch the entire segment below, and let us know what you think in the comments.
https://youtu.be/L0jQz6jqQS0&h=500