A new multi-part Muhammad Ali documentary is headed to HBO, courtesy of SpringHill Entertainment. Known as The Greatest of All Time, Ali was also a political activist and refused to serve in the draft during the Vietnam War. At the time, his actions were polarizing, and it took years before the public warmed up to him again. This documentary will offer an in-depth look into his life and legacy.
This is the first feature-length production from SpringHill Entertainment. LeBron James and his business partner and manager, Maverick Carter, founded the production company.
James recently donated $2.5 million to the Muhammad Ali exhibit at the National Museum of African-American History and Culture at the Smithsonian. This documentary serves as another way for James to pay homage to the boxer.
"It's tough to put into words how much it means to me to be a part of this project honoring the legacy and telling the extremely important story of the great Muhammad Ali," James said in Rolling Stone. "He transcended sports and used his platform to empower people, which paved the way for all athletes and people of every race and gender that came after him, myself included. It's important that his story continues for generations to come, and it's an honor for SpringHill Entertainment and me to be a part of this."
The Muhammad Ali family estate is sharing never before seen photos and archival video which show Ali's "greatest triumphs and comebacks, painting an intimate portrait of a man who, against all odds, dreamed and achieved the impossible, over and over again." Cinematic recreations will also be used to tell his story.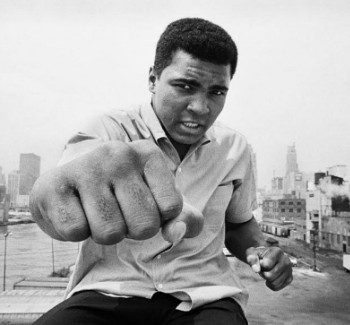 Deadline
Ali's influence extends far beyond the sports world. Director Antoine Fuqua (Training Day) considers it an honor to tell his story.
"Muhammad Ali meant many things to many people, and he is someone who had a deep impact on me from an early age," said Fuqua. "Being given the opportunity to tell his story, both inside and outside of the ring, is a privilege, and a dream come true, and I couldn't have found better partners than LeBron and HBO to help memorialize 'The Greatest of All Time.'"
Ali passed away earlier this year after living with Parkinson's disease for decades. He died on June 3rd at the age of 74. As of now, the documentary is untitled, and a release date has not been announced.