Tarra Matthews
Senior Content Manger
@tlcm_16
Sad news out of Hollywood this morning as legendary actor James Garner has passed away at the age of 86. According to
TMZ
, emergency services were called to the actor's Los Angeles home around 8 pm but the actor had passed before the ambulance arrived. The cause of death is not yet known. Garner, who's real name was James Scott Bumgarner, began his
acting career
following a decorated career in the military during the Korean War where he received two Purple Hearts after being injured. Garner started in the Broadway play
The Caine Mutiny Court Martial
in 1954 before scoring a contract with Warner Brothers. Garner's big break came with a starring role in the television show 
Maverick
in 1957 as the original Bret Maverick. The show was supposed to alternate starring credits between Bart Maverick, played by Jack Kelly and Bret Maverick played by James Garner but it was Garner who the audience fell in love with. Garner stayed on the show until 1960 wherein he left over a dispute about money. However, he returned to the world of 
Maverick
in 1994 with the theatrical remake where Garner starred opposite Mel Gibson.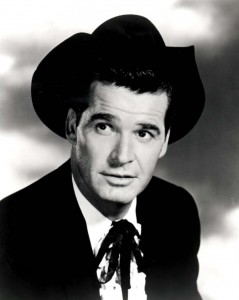 Courtesy of Wikimedia
James Garner will also be remembered for his role as PI Jim Rockford in 
The Rockford Files
 that ran on TV from 1974 to 1980. Garner even won an Emmy for his work on the show in 1977. But for the younger generation, James Garner has 2 roles that helped immortalize him to us: Jim Eagan in 
8 Simple Rules 
and Duke in 
The Notebook.
After the untimely death of John Ritter in 2003, something had to be done to save his latest television project, 
8 Simple Rules, 
where he played father to 2 teenage daughters (that included at one point or another Megan Fox and Kayley Cuoco) and a pre-teen son. The show cast James Garner to play Katey Sagal's father who comes to live with the family after her husband (John's character) passes away in a car accident. Garner played well on the show as the sarcastic-talking grandfather with a heart. The show also cast David Spade as Uncle CJ (Katy's brother on the show) and the chemistry between the Garner and Spade was amazing. But James Garner's last major role was the one that I will always remember him for: Duke in 
The Notebook. 
For those unfamiliar with 
The Notebook
, it was the story of the love between two individuals, Allie and Noah, who fall deeply and hopelessly in love. As the film progresses, we discover that Garner's character, Duke, is actually present day Noah and he is trying to inspire the memory of his Allie (played by Gena Rowlands) who is now battling Alzheimer's. Garner had a career that spanned almost 60 years, an Oscar nomination, 3 Golden Globe wins, and 3 Primetime Emmy Awards among other wins and nominations.