Last night was a night to be remembered in Canada while the lesbian led USA Women's Soccer team beat Japan 5-2 for the FIFA Women's World Cup 2015 win.
Something special was definitely in the air (amidst the smoke from nearby Vancouver wildfires) when Carli Lloyd started things off at the 3 minute mark with a perfect strike. Little did we know, just 2 minutes later, she would punt another pass right across Japan's goal line making it 2-0 within the first 5 minutes, as fans went into a frenzy.  Lauren Holiday was next to send one into Japan's net and YET AGAIN, Carli Lloyd sailed another past keeper Kaihori and would be the first ever to have a hat trick in a Women's World Cup match, with her 3rd goal.  In an collective, unprecedented moment, the 53,000+ stadium (and the millions watching at home) saw a score of 4-0 in only the 14th minute of the World Cup Final.
Japan fought back gamely, cutting it to 4-2 before Morgan Brian found Tobin Heath in the box for a lovely goal that squelched any momentum for good.
In the final moments, as the added time ticked away, fans, and teammate rose to their feet for the final whistle. At the 91:00 mark, when the end-peep was heard, a rush felt by the world happened and whoops, screams and hollers, filled the air. We saw Wambach yell "Finally!", we saw player's children take to the field, we saw Lloyd, O' Hara and Rapinoe wrap themselves in US flags, and we saw the team shower Boxx's little daughter with confetti. Moments that will, for sure, last a lifetime. 
Surprisingly, the camera stayed on Abby Wambach, who immediately ran to the stands to find wife, Sarah Huffman, wearing a #20 Wambach jersey- and jumped up for a hug and kiss which quickly made the internet rounds.
https://vine.co/v/en7PUTVxgb0
The Women's World Cup team has the most publicly out players, including Rapinoe, Krieger, Wambach and coach Jill Ellis, making the LGBT fans proud and glued to coverage.
Congrats to Team USA on a much deserved win and to Carli Lloyd and Hope Solo for their winning the Silver Boot Award and The Golden Glove. Job well done, ladies!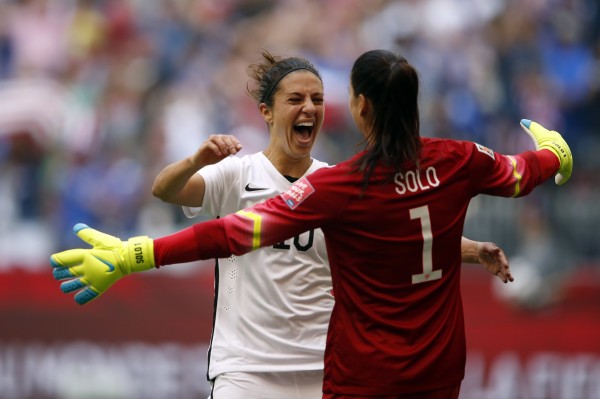 Credit: Michael Chow-USA TODAY Sports