Emmy winner Leslie Jordan has been working the Hollywood strip for years. His quote, not ours. Jordan is best known as Megan Mullally's (Karen Walker) arch rival Beverly Leslie on Will and Grace, the role that landed him an Emmy in 2006! Leslie is ready to talk about the future, and focus on what he has been doing in the years since Will and Grace. With over 111 acting credits on IMDB, Leslie is truly the definition of a working actor in Hollywood. We are very happy we got to sit down with him and get the scoop on some amazing adventure coming his way in 2015!
American Horror Story: Coven gave Leslie a big splash back into prime time thanks to series creator Ryan Murphy. He had a 5 episode arc in Season 3, until his untimely death, having his eyes gouged out. Honey, Will and Grace it is not. Yikes. Leslie had signed a contract to be over in London locked away on Celebrity Big Brother when his manager got a call: Murphy had written him another 5 episode arc in AHS Season 4, Freak Show. He was so upset that his manager had to decline the role due to schedule conflicts. But Leslie was excited that Mr. Murphy sent a note, saying he was a fan, understood, and would keep him in mind for future projects! Maybe Leslie can play a demented Bellhop in AHS' newest installment, Hotel, this fall, Starring Kathy Bates, Lady GaGa, and Matt Bomer. Just putting it out into the Universe!
Leslie Jordan had big screen success with the hugely popular The Help in 2011. He is very excited about a new film he will be shooting in Texas later this year. Leslie told us it's powerful, and I think it will be a wonderful film that will touch so many lives.
Finding Albie Finch is a new take on the "bromance" film - a story about Albie Finch and Marcos Lopez, two men who couldn't be from more opposite worlds. And yet, they are men bound by the mutual pain of being outsiders in their own lives. Over the stretch of a hot Texas summer, as the two men work together, an unlikely friendship develops. But this doesn't come easy, as their days are often punctuated by explosive arguments and eruptions of unpredictable chaos. Jordan also added, "it is so beautifully written by Nick Oceano, I am honored they considered me for this part."
Visit the official website HERE.
Leslie also tours the country and around the world- over 50 venues per year! Thanks to his hilarious stand up comedy routines, most notably "My Trip Down the Pink Carpet," which was produced off Broadway by Lily Tomlin. Others include "Show Pony," "Fruit Fly," and "Say Cheese." You, too, can book Leslie into any event you are hosting. Everyone loves Leslie, and unbelievable things always seem to happen to him, where ever he goes. Thanks to his Palm Spring-based agents, Reaction Marketing. More info on booking HERE.
Sordid Lives was a film that became a cult classic. Written and directed by Del Shores. Playing the role of "Brother Boy" brought Leslie a whole new legion of fans. Everyone will be happy to know that a new installment of the film is in the works. Get ready for a "Sordid Wedding" that will bring the cast back together for a big Cougar affair. Let's just pause and think about all the funny antics that can happen in this setting. Stay tuned, Sordid Wedding is set to film this summer. Fans can help speed up the process by donating to the fund raising campaign HERE.
Leslie has always been a cartoon, but now thanks to a good friend, he actually gets to play one! Leslie shares, "This project is closest to my heart. My friend Sarah Hall is developing an INSANE cartoon about an ant colony." Guess who voices the wonderfully gleeful ant who has his eyes on being THE QUEEN ANT?
If that's not enough, learn more information about Leslie's latest adventure, entering the world of web series and web TV! He has just started filming for a new series called Con Man. He announced on his Facebook page that it's going to be a whole new world for him. Follow Con Man's Twitter and FB here for more updates! One creator is Nathan Fillion from Castle on ABC.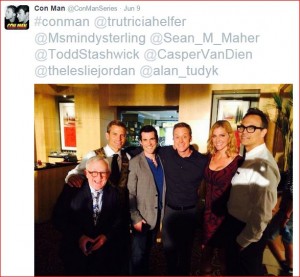 On a personal note, we are happy to call Leslie Jordan a friend. We have followed him since Sordid Lives and Will and Grace. We approached Leslie last year and asked if we could just follow him around and film his life. He had a cameo in our first documentary film, Hollywood to Dollywood. We also cast him in a Dorito commercial we wrote for the Superbowl. To our surprise, he said yes! He said, "Honey my life is so full it will take twins to film this trip down the pink carpet! The Lane Twins!"
So that's exactly what we have been doing for the past 6 months! Leslie is letting fans have a look behind the scenes, and is pulling back the curtain on his life. From his prep routine before he walks out on stage at a comedy show, on the set with Sordid Wedding, Finding Albie, and new web series Con Man. Even a sit down tell all interview with Megan Mullally (Karen Walker) herself. It also highlights how much Leslie gives back to charity and LGBT causes. I think fans will enjoy this all access pass to Leslie himself. Follow the documentary FB page HERE. 
Please follow Leslie on Twitter and Facebook! More adventures to come! Stay tuned.