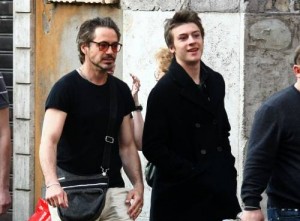 Shane Avery
Senior Staff Writer
@ShaneAvery "Iron Man" Robert Downey Jr. infamously battled drug addiction early on in his career, and it has seemingly been passed down. His 20 year old son Indio was arrested Sunday afternoon in West Hollywood for cocaine possession. Indio was a passenger in a car, when it was pulled over by authorities, who reportedly caught him smoking a pipe. The vehicle was then searched, and Indio was reportedly caught with cocaine. He was arrested at the scene (no word on the driver) where he was later released after paying $10K bail. RDJ has just released a statement on the arrest: Unfortunately there's a genetic component to addiction and 

Indio 

has likely inherited it. Also, there is a lot of family support and understanding, and we're all determined to rally behind him and help him become the man he's capable of being," "We're grateful to the Sheriff's department for their intervention, and believe 

Indio

 can be another recovery success story instead of a cautionary tale." Keep Up With PopWrapped On The Web!