The season of pumpkin spice has sadly come and gone... but with the craze of unique flavored snack foods rising, there is no shortage of new flavors.
I must admit, I am a sucker for these limited edition flavors--the weirder the better. I will be the first in line to try whatever those geniuses in the taste lab can dream up. Nabisco has been one of the biggest contenders, releasing new cookie flavors nearly every month.
We even reviewed  the newest Oreo flavor, but they are far from the only ones.
Lays has been making headway with their strange chip flavors too, which have been a huge success. Whenever I'm at the store, I am sure to keep an eye out for anything fun and crazy I can try to share with our readers!
Today I am reviewing three items I recently found. Hot Dog flavored Pringles, Maple Bacon Poptarts, and Maple French Toast Thomas' English Muffins.
Let's get snackin'!
Hot Diggity Dog Pringles
I can already see the face some of you are making. I know, it sounded rather gross to me too when I first spotted these on the shelf of a local Walgreen's.  
Curiosity trumped all, though, and I was eager to give these a shot, regardless of how weird it sounds. I must say, I'm glad I did! I loved them! In fact, I would definitely buy these again.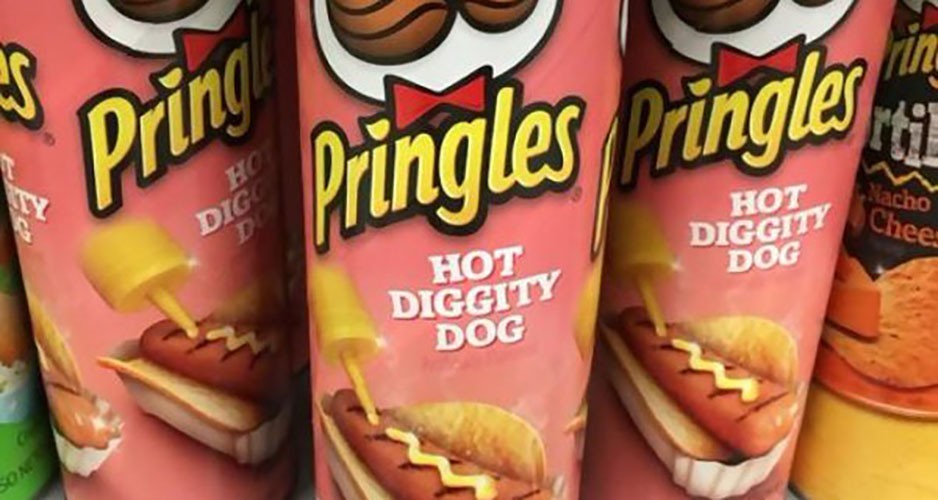 firstwefeast.com
When you really think about it, Pringles always tend to be a more salty flavored chip and hot dogs are a salty meat. It lends well to this potato vessel.
The smell isn't overpowering, either  It mostly reminded me of mustard, which must be the basis for this chip, because that is also the flavor that pops out on the palate first. The "meat" taste is there, but it is very mild. It was easy to shovel these in by the handful and not get overwhelmed like some of the stranger chip flavors out there.
I'm sad these will most likely be a limited run, because they were a good snack with a well-balanced taste of savory and salty.
Maple Bacon Poptarts
Oh yes...you heard right. Maple bacon poptarts. I saw these on the shelf and I snatched them up instantly.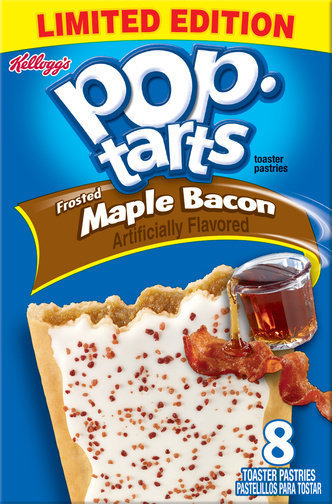 Huffington Post
I will confess, I was a bit nervous trying them. I've been burned one too many time by products claiming to be "bacon flavored" and they taste nothing like bacon! I think bacon is a hard flavor to master. It usually comes out too salty or too smokey and misses the mark, leaving a bad taste over all.
I am happy to report that the poptarts do not fall short here. They were smart about it. They added maple to the equation, which really rounded out the flavor combo perfectly.
I tried these both toasted and un-toasted. I would suggest, for the full flavor effect, that toasted is definitely the way to go here.
The poptart has a strong maple taste, that being the core flavor in both the frosting and center. There is dry bacon bit crumble on top of the pastry, and a very mild salty and smokey flavor inside. When heated, the bacon flavor pops the most, making this portable snack taste like all the components of a yummy breakfast all in one place.
For the novelty, this was super tasty and I devoured the entire box. However, I don't see myself rushing out to buy more anytime soon.
It was one of those things that is definitely worth a try to say you had it, but then I'm good going back to strawberry poptarts again next week.
Maple French Toast Thomas' English Muffins
This was something new that caught my eye. I don't see too much experimenting going on in the bread world. The most adventurous you usually get is cinnamon raisin, so I was happy to see something new. Plus, I really enjoy maple things.
These, first of all, smell INCREDIBLE. You can smell them even though the packaging. The aroma hits you with delicious maple, but I was disappointed when the actual flavor didn't deliver.
Tumblr
When I went to cut the English muffin in half, I noticed it was a lot more of a doughy consistency than the usual English muffin. You could see little pockets of "syrup" in the bread. It reminded me a lot of a McDonald's McGriddle breakfast sandwich bun. I toasted it, but it still was very doughy throughout. The maple flavor was present, but fell short because it was just too subtle in taste.
Overall, it was disappointing and just brought down the quality of a product that is usually very tasty. These are indeed a limited edition item, because I don't see myself picking them up again anytime soon.
That's it for food reviews this week! Have you seen or tried any unusual treats lately? Have an idea of what I should try next? Let us know in the comments!