Alexa Frankovitch
Staff Writer
Exactly one month from today, Lady Gaga's newest album,
ARTPOP
, will be released to the public. In honor of the upcoming release, the full 15-song
tracklist
was announced last night. With the help of a group of fans who call themselves the "LA Rivington Rebels," the song titles were released via an image of the tracklist spray painted on a wall. In addition to Gaga retweeting this image, she also said that the devoted fans have been sleeping outside of her studio for a month, "sleeping bags, booze, and all."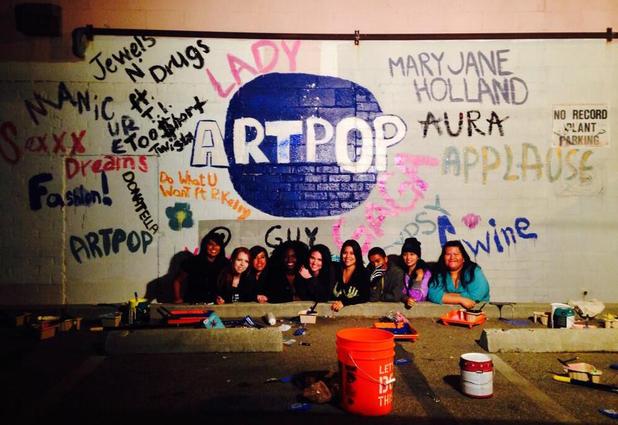 Photo Courtesy of Twitter
In addition to the retweet, the singer also stated that the tracklist was released later than anticipated due to two songs contesting for a spot on the album. "Tracklist is late because 2 songs are cockfighting for the #12 spot. I'll let u know which cock wins at 9pm tonight :) get out the champagne," she stated. She also shared that the soundtrack to the new film
Machete Kills
delayed due to a late decision to remix and remaster the songs. This film was released today with Gaga staring as La Chameleon. Finally, the chart-topping artist gave one more statement: "No matter what I create only 3 artifacts will remain in the vault when I'm gone 1. the music 2. The album cover 3. any contributions of good". The full tracklist is as follows: 1. 
Aura
2. Venus 3. G.U.Y. 4. 
Sexxx Dreams
5. Jewels N' Drugs (ft. T.I., Too $hort, and Twista) 6. 
MANiCURE
7. Do What U Want (ft. R. Kelly) 8. ARTPOP 9. 
Swine
10. Donatella 11. Fashion! 12. Mary Jane Holland 13. Dope 14. Gypsy 15. 
Applause
ARTPOP
will be released worldwide on November 11
th
.
http://www.Twitter.com/PopWrapped
https://pop-wrapped.tumblr.com
http://www.SoundCloud.com/PopWrapped
http://www.Facebook.com/PopWrapped
http://www.Instagram.com/PopWrapped
http://www.Pinterest.com/PopWrapped
http://www.YouTube.com/PopWrapped
https://pop-wrapped.wordpress.com
http://www.PopWrapped.com