To a venue not even half full, Samm Henshaw (yes, he spells it with to M's because in his own words, he's "weird"), is first up. The first few numbers earn him lukewarm applause at best, and the fact he keeps repeating his name for those who walk in late, soon starts to irritate, especially when he does it after every song. With an EP due out in three days' time, he invites those before him to hold three fingers up in the air as he takes a crowd photo – those on the floor certainly oblige, but individuals in the seats appear more occupied with their mobiles and beverages. Despite throwing in a reggae style cover of "Best Song Ever" by One Direction, his short set doesn't earn him the response he was likely hoping for and mere minutes after he's walked off stage, sadly it's like he was never there at all.
Property of Rebecca Haslam/PopWrapped
Elle King fares much, much better. From the moment she walks out, greeting the almost full house before with a "Y'all alright?", it's pretty clear that her performance is going to be a fun one, and she doesn't disappoint. She also proves herself to be a multi-instrumentalist as she flits between playing the banjo and guitar, regaling the crowd with humorous stories. "I've decided I want to be a better, nicer person," she says with a grin. "And I'm going to start that by not drinking so much… just not tonight."  Her performance of "Ex's And Oh's" contains the lyric "they always wanna come but they never wanna leave" – it's hard to ignore the cheeky smirk on her face as she says it; the lyric itself being pretty self-explanatory to most of the people present. As her time on stage draws to a close, she throws in a cover of "Oh! Darling" by The Beatles. The younger members of the audience subsequently get a music lesson, while the adults get to reminisce a little; she takes a risk by including it in her set, but the applause she receives as it ends suggests that it was one worth taking. A few minutes later, she thanks her audience and exits to cheers and whistles – for her, it's certainly been a good night.  
Ultimately, despite how good King was, that's not who this practically sold-out audience have come to see. Instead, they await James Bay and, as the lights go down and long before he walks on stage, trademark hat firmly in place on the top of his head, the crowd have already whipped themselves up into a frenzy.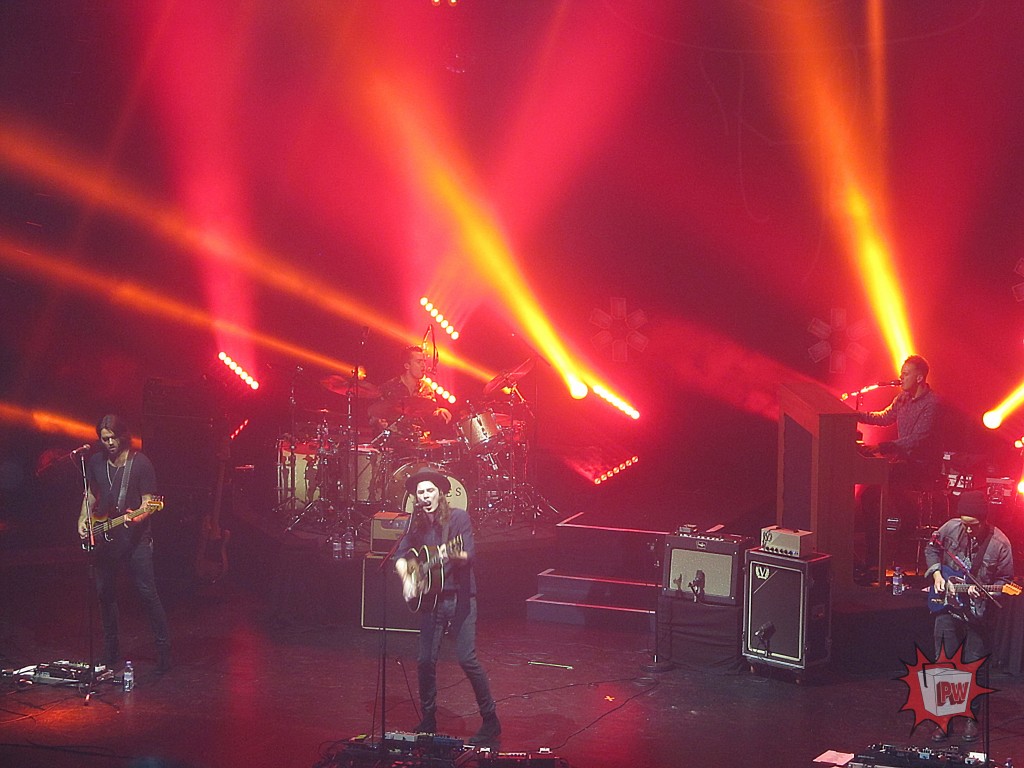 Property of Rebecca Haslam/PopWrapped
Opening with "Collide", Bay gets everyone going within a matter of seconds and the momentum keeps going thanks to "Craving." Swapping guitars, he walks to the front of the stage and looks out, before, tilting his head back to reach the microphone, a simple comment of 'Hello, Manchester' sends everyone present into rapture.
"When We Were On Fire" instigates a venue-wide hand-clap, while "If You Ever Want To Be In Love" sees the crowd prove themselves to be in fine voice, as the masses sing along with Bay, complete with cheeky smile on his face, leading everyone before him. The song also allows him to show off his own superb vocal abilities and he harmonises well not just with the crowd but also his band-mates. "You know you sounded so good!" he declares as the final note plays out. If the previous number was impressive, "Need The Sun To Break" has goose-bumps appear on arms as the crowd join in once more.
"You have no idea how good it makes me feel to see and hear you all singing along," Bay tells his crowd, which only raises the volume of their cheers. Next up, "Running" is more balladesque, as is "Let It Go", not to be confused with the number from Frozen, which when combined with the impressive, beautiful but ultimately simplistic lighting, makes for an awe inspiring sight and performance. When the hundreds in attendance add their voices into the mix, the effect is practically gospel like – it's that good. With three spotlights shining down on him, "Scars" starts off in a similar fashion and the rendition is so good, it's almost a shame that the tempo kicks itself up a few notches, but it works ridiculously well nonetheless.
Following on soon after is "Move Together" and this time, the packed floor becomes a sea of swaying arms, and as the song offers up a great demonstration of just how well Bay can hit and hold the high notes, the applause that greets the end lasts long after he stops playing, leaving him with a few moments to soak up the electric atmosphere.  "How you doing, Manchester?" he cries out, the response he receives leaving him shaking his head. "Really?! How you doing?!" This time, the venue practically roars back a response that leaves him smiling.
By the time Bay exits the stage and returns a few minutes later for an encore, there is no doubt he has everyone in the palm of his hand, their eyes, cameras and mobiles firmly on him. A short, but loud hand-clap echoes around the venue during "Incomplete" and then a cover of Alicia Keys' "If I Ain't Got You" makes for a surprising inclusion. With that said, it's probably the best cover version I've come across in months, and the reaction the crowd give it suggests they feel exactly the same way. It's not as surprising however to see Bay round out the show with his smash-hit "Hold Back The River" with the floor becoming a moving mass of bodies, the voices of the crowd echoing from every corner as they sing-along to EVERY word. Playing out the final note, those in the seats, if not up already, rise to their feet to join in the cacophony of cheers, whistles and applause being directed at the stage. Bay steps forward, takes a bow and disappears from view, but it takes another good minute before the noise from those in attendance finally fades out.
[gallery type="slideshow" ids="107948,107958,107951,107957,107954,107949,107953,107952,107956"]
Less than a week ago, I wrote that bands and artists would have a great deal of fun trying to top the performance Florence + The Machine put on for their audience at Manchester Arena. Today, I am more than happy to announce that, as much as I didn't think he'd pull it off, Bay now holds the title of my best gig this year, and I urge anyone who has the opportunity to see him live for themselves to do so – it's highly likely you'll be as impressed as I was.