Robbie Williams is undeniably one of the world's biggest superstars and has pretty much been entertaining people his entire life. PopWrapped couldn't be missing the essential coverage of his eleventh concert tour, Let Me Entertain You, so here's everything that went down during his Rockwave Festival concert in Athens, Greece.
After arriving late at the location of the show and having missed the first supporting act, it was time for Kovacs, who you might should know from "My Love". The lady and her band made sure to keep us entertained for a long hour, with dark jazz-inspired sounds and a voice to die for. Even though everyone was looking forward to Robbie, she managed to make a great impression and got the very best of comments from the ones in the crowd. Soon as the lady and her band were off the stage, the preparations for the superstar's grand entrance had begun.
Courtesy of Rockwave's Facebook
 It didn't take long to get the stage ready and Robbie kicked off his show with the title track of the tour, "Let Me Entertain You". Fromt he very first note, he had us all singing along on our feet and made sure to keep it that way with "Rock DJ". The very first interaction with the crowd found him introducing himself as "Robbie fucking Williams, the man your mother wished was your father", and made clear that he owned our asses for the next couple of hours. Of course he was sorry he's never been in Greece before, as we responded well to his lyrics challenges. Well, how could we not know the words to "Monsoon" and "Come Undone" really? Straight afterwards, he did the Greeks a great favor, by performing one of his less popular tunes that was a local hit, "Me And My Monkey". Once again, the interaction was intense as we were following his every word. Right after, we couldn't help jamming to "The Road To Mandalay", before Robbie Williams jumped to his swing segment.
 The little film begun with the upbeat "Minnie The Moocher", before it was time for the fan-favorite "Swing Supreme", which took a lot of singing along. The showman went on to cover R. Kelly's "Ignition" and then stripped things down with "Better Man", as his father Pete Williams joined him for an emotional duet. He was quick to restore the energy though, as his cover mash-up of "We Will Rock You" and "I Love Rock 'n' Roll" got everyone pumped and jumping. One more emotional moment was on the way for us though, as "No Regrets" got one of the best live reactions of the entire concert and found him sounding fantastic as per usual. After having complimented the Greek ladies and got silly about it already, Robbie Williams was joined by a hot chick in "bed" for the performance of "Candy". She instantly bowed down and worshipped him, but he was quick to repeat her actions in admiration of her toned body.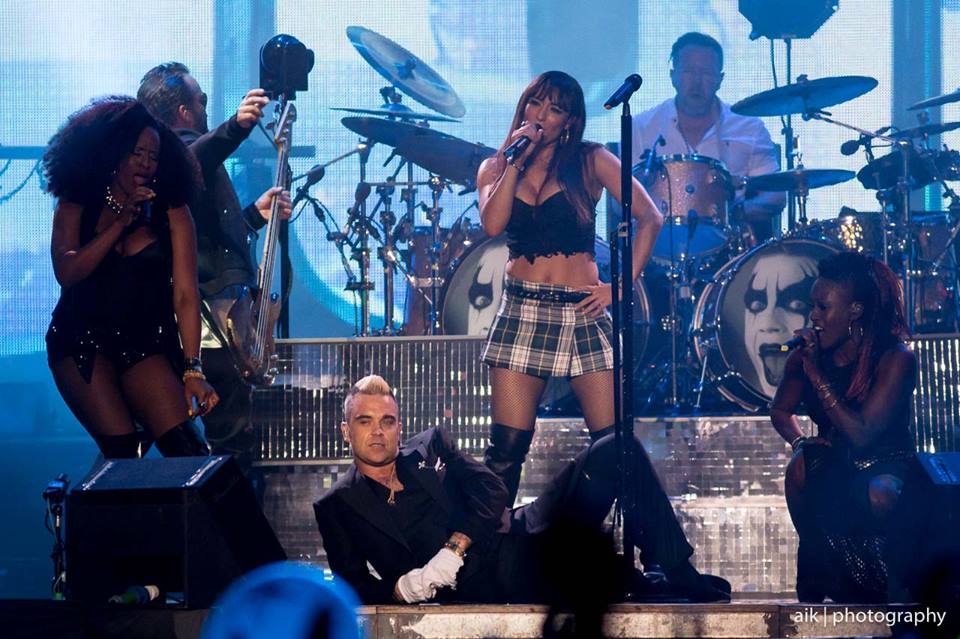 Courtesy of Rockwave's Facebook
The song everyone was looking forward to, "Feel", was up next and the crowd literally didn't stop singing from the very first word to the last. It was a beautiful performance and he really knows how to make a simple yet effective song like that work out perfectly live. Robbie Williams then covered Lorde's "Royals", which kept people entertained but to be honest, everyone seemed to care more about his own songs. The super-anthemic "Millenium", mashed-up with "99 Problems", once again proved to be a quality stadium track and got great reaction from the crowd. After exceptionally covering "Whole Lotta Love" as well, he moved forward with another local hit and fan-favorite, the Kylie Minogue duet "Kids". Even though the songstress wasn't there to join him, his backing vocalists and the audience did a great job with the missing parts and the ones he chose to let the latter sing.
Before we even knew it, we'd come to the encore, but right before it kicked off, the former Take That bandmate sent a little "Happy Birthday" video to a beloved person of his, apologizing for not being present at the party. His cover of Queen's "Bohemian Rhapsody". We then had to record that video message once more 'cause it didn't work the first time around and up next, it was time for a sentimental rendition of "She's The One". Another great moment in terms of crowd interaction followed, as Robbie Williams majorly closed the show with his massive hit and fan-favorite "Angels". Letting the curtains fall for good with "My Way", the showman even stayed a bit longer on the stage before saying goodbye. However, leaving us still felt cruel. You know that state when you've reached the absolute state of entertainment and don't want it to stop? That was it!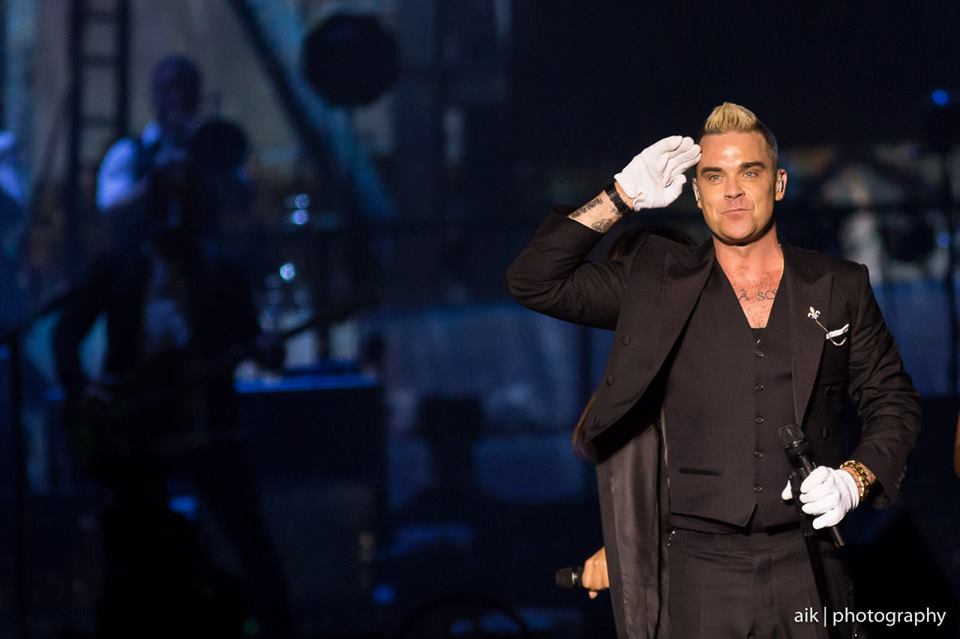 Courtesy of Rockwave's Facebook
During the concert, the singer even went as far as to send a political message, by shouting "Hold tight, Greece!", after having said "I'm with you" to the ones currently in protest. It's not just that Greeks loved him, it's that he loved the audience as well. After all, he did make a promise to come back in 18 months time, something we'll be looking forward to, hoping that he keeps his word. All in all, Robbie Williams managed to put on a great show with just the theatrics he could use, 'cause he really doesn't need too many of them to impress. With his astonishing back catalog of songs, amazing voice and extravagant personality, there's really not much left to ask for. It was one of the best experiences I've had in my life so far and all one can say is one big fat "Thank you, Robbie".