A teacher in Liverpool, England shared a touching letter she received after inspiring one of her students to come out. After entering into a civil partnership, Emma Baldry decided to change her last name - a move that invited some questions from her older students. She says,
"I had a choice to make. Do I lie or do I tell the truth? I chose the latter because I'd gone through enough time living as not me so I promised myself that now I'd finally found who I truly was I would never ever hide my sexuality again."
Baldry approached the topic in a planned lesson about family. "We talk about how all families are different and everyone is special because of it." She strives to create a safe space at school, where kids can feel comfortable and confident being themselves. She began to run LGBT+ assemblies and continued to her inclusive lesson plans.
Baldry's efforts have made a difference in her schools. She shared a letter from one student with the media in advance of Liverpool's Pride weekend. The student says that her assemblies and lessons "changed loads of students opinions [sic]". The student continues to say that knowing Baldry and hearing her stories helped make being out in high school feel less lonely.  Read the full letter 
right below.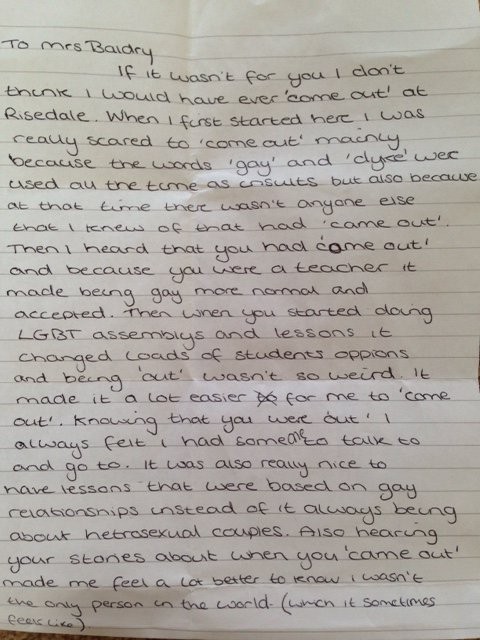 Courtesy of attitude.co.uk
There are still challenges to being so open about her sexuality, including bullying and finding derogatory notes, but Baldry doesn't regret coming out at all. "Having my students behind me and knowing it doesn't change anything means so much".
Appplause from all of us at PopWrapped!