Looking has always been a show that prided itself in the quiet moments. It was never about an explosion, but always the slight, ever burning warmth of a flame. The show took pride in showcasing pure emotion with a silent look between two characters in love rather than a huge, cinematic declaration of love.
Looking was a niche show created for a niche audience, and, as a result, it never quite found the footing nor the audience to run for multiple seasons. Though this little HBO show about three gay friends navigating life and love in San Francisco only lasted two seasons (and a finale movie), it is a show that provided a community with a narrative that it seldom sees: a narrative of its' own.
It is more common than ever that TV shows have atleast one LGBT character, but Looking took that notion and pushed it to the maximum, providing viewers with three gay leads and various gay love stories and various gay ancillary characters. It was a gay show for gay people, and that is and always will be its legacy, regardless of its stunted episodic run.
Through 20 episodes we watched Patrick, Agustin, and Dom navigate sex, break ups, make ups, tears, run aways, and everything else that a normal person does while growing up. Looking gave its viewers a realistic view into the everyday life of a gay man in 2016.
It examined what it means it be sexually active, it explored what it meant to be HIV+ and fall in love, it explored what it was like to sabotage every intimate relationship, and even in its finale, it examined the idea of gay marriage and how it now it something that can happen, not just something that is a dream for future generations.
The show also received something that many shows in the current day and age of Peak TV rarely get: a fitting conclusion. Though it was cancelled, Looking was given the opportunity to wrap up its time on HBO with a movie, seemingly tying up all the loose ends, even if some were too perfectly wrapped in a bow.
Agustin, the insufferable saboteur from season one has blossomed into everything he once chastised, a gay man not only openly in love and shouting it from the roof tops, but a man who in 2016 is getting married to the man he loves. Dom finally comes full circle from the inception of the show and becomes successful on his own two feet, no longer just a waiter, but a restaurant owner. He's a successful restaurant owner at that. It's a full circle transformation for both characters and one that feels true to form, even if a little too neat and perfect.
Looking, though always about three friends, has always been Patrick's show. He is the focal point and as such as been the center of the most prominent love triangle. Since the movie was a finale, it gave Patrick the opportunity to confront both his exes, Kevin and Richie, effectively closing the chapter on one and reopening a chapter thought to be closed. The tumultuous and toxic relationship with Kevin is given its messy ending by exemplifying two characters who did at one time care about each. Their relationship fell victim to wandering eyes and fear, and it needed to end. It's a hard scene to watch, as the two lovers are left nothing but strangers with broken memories to discuss; however, it also might be the most honest scene, in that sometimes those we love do become just people we used to know.
On the other hand, the story with Richie, one that never felt fully realized, becomes a story worth telling again. The two within the coda of the movie, stop running away from their love for each other and agree to really try and make things work. It's a moment that fans have waited for since the two characters met on a bus in the pilot. It's a real moment that speaks to the core of Looking, as it examines the complex intimate relationship between two gay men and not necessarily giving them a firm happily ever after, but more so a chance at happiness.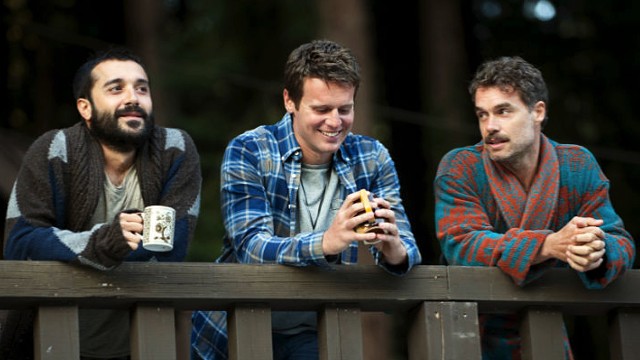 etonline.com
Looking may never have won any awards or become a highly rated and acclaimed HBO show, but it did become a show that provided gay individuals with a show of their own. Whether one saw themselves in Agustin or Patrick or Dom, it was important because you were able to identify with this wonderful little show. It will always be a show that spoke to the heart of the characters and the decisions we make in the course of our lives that make us who we are. Whether you were looking for love, looking for an adventure, or looking for yourself, Looking was a show that in its' most subtle moments reminded you in world so big, you were never really alone.