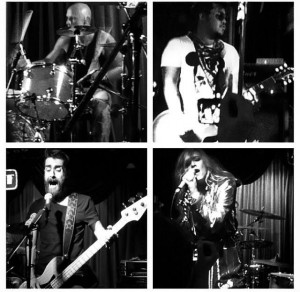 Mad Moon Riot Facebook Page
Carleen Slon
Staff Writer
@Carleen1991
You might not know them now, but Mad Moon Riot is taking the city of Los Angeles by storm! I got the chance to talk with band members Matt Hitchens, Mia Von Glitz, Ru Hazell, and Pou Piam about the past, present, and future of Mad Moon Riot.
●
How did Mad Moon Riot come to be?
POU:
Matt and Ru have known each other since they were kids back in England. After
dropping everything back home and moving to LA in early 2013, they got lucky
by finding Mia through Craigslist. Through another chance encounter, they met
a guy named Barry Squire who's sort of a music industry matchmaker that fills
openings for bands and artists who need musicians. Then when I walked through
the door with a guitar in my hand, their luck ran out and they haven't been able
to get rid of me since.
● Who came up with the band name of Mad Moon Riot?
MATT:
I wish this was a more interesting story as we have been asked this a few times,
but it really just came about by Ru, Mia and I each picking a word at random, and
Mad Moon Riot was the first one that we all thought was ok. It seems to suit us
and has gone down pretty well so we're happy!
● What do you guys do to prepare yourselves for a show?
POU:
On the day of a show I'll wake up early around 2-3PM and get my day started
with a light breakfast; usually a ham and cheese sandwich or all-you-can-
eat sushi. In the hours leading up to the show I'll usually listen to either The
Roots' "How I Got Over" album or Childish Gambino's "EP" EP and live out my
fantasies as a rapper.
• What is the recording process like for you guys?
POU:
Matt and Ru wrote the majority of the music and lyrics for the album, and then
together as a band and with our producer Bob Marlette, we did about three
months of pre-production where we further shaped the songs into their current
state before heading into the studio to record. The album is mixed and mastered
and all ready to go!
• Favorite song to perform on stage?
RU:
 "
Feels Like The Way" on drums. Our stuff is really physical – we have complex
riffs, bass lines, vocals and drum grooves and this is the pinnacle of that for
me. In FLTW I get to play hard, soft and fast as it combines reggae, ska, punk,
rockabilly, a little drum n bass. It also has a drum solo so it makes me feel like an
important band member for those 8 seconds! Other than that a new tune "Black
Box" is cool to play as it's slower and gives me a bit more of a rest
.
• How different will the album be to the Make Me EP?
RU:
Night and day man. The Make Me EP was cool but it was effectively a glorified
demo – it had solid production by my mate from high school Dan Goudie but it
was recorded in 3 days. With Bob Marlette on board the sound of the album is
fat, full, and deep – it's more a side of beef than a rack of lamb. The arrangements,
lyrics, drum patterns, riffs are stronger too and there's some sick-ass guitar solos
in there. Bob had us all work on the songs and performance a lot so not only is
the sound fuller, the playing is a higher caliber and Mia's voice sounds like it's
been hitting the weights hard in pre-season. (i.e. good).
• Describe each other in one word :
Ru – clean Matt – forlorn Pou- spikey Mia – spunky
So you guys started an IndieGoGo Campaign to raise $8000 to make music video
for your debut album's first single to be directed by
Carlos Lopez Estrada.
● Did you guys ever think you would earn that much money only mere hours
of the campaign going up?
MATT:
In all honesty I didn't think we would ever raise $8000 let alone almost $14,000!
I was in charge of organising the Indiegogo campaign, and the reason why there
are so many perks and it was set for six weeks, is because I thought we would
really struggle so would need a lot of time. I remember Mia ringing me about
15mins after the campaign went live, and when I saw her name pop up on my
phone I thought: "Oh shit I must have buggered something up and she's calling
to let me know". All she said was: "You know how much we've raised already?
$1700!" Then it just started getting very surreal as every time I refreshed the page, it kept going up and up. I remember when I spoke to my dad after we had hit our target and he said he didn't think we had a hope in hell!
● Were you guys surprised at how fast your IndieGoGo was funded?
POU:
100% true, I've attached the photo I sent around in the band group text when
I woke up and saw that the campaign had raised $4k after being live for 38
minutes. Insane. Incredible thanks to everyone who contributed!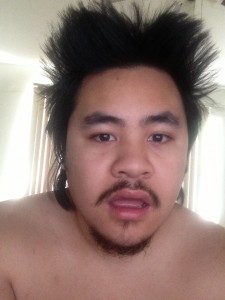 Courtesy of Pou Piam
• What were you guys doing when you saw you had reached your goal so
quickly?
RU
:

I was at home watching an episode of Weeds (when it was good before they
burned down Agrestic) and it was like "woah". We'd all been a little paranoid
that we were going to even hit a grand in 6 weeks, and I was pretty convinced
that we'd have to take out bank loans/start tapping up elderly distant relatives
for some extra cashish, but we smashed our target in a casual 3 hours. No big
deal……….
JK I don't think anyone expected that amazing response. I do feel like I have the
right to be a smug git now though.
●
Can you give us a hint on what song your music video will be?
MAT
T:
Not yet I'm afraid. We have picked it but can't give that away just yet. This
was a bit of a tricky one to agree on as we all had our favourites so couldn't
come to a decision. However, when we played the album to our producer,
our engineer, our masterer and a former A&R guy (incidentally, the same guy
who helped us find Pou), they all chose the same song. In the end, when so
many people with that much experience in music all say the same thing, we
had to listen to their advice.
●
Any tour plans?
MATT:
Not as yet. It's a tricky situation with touring as it is so expensive, and
realistically as we are still fairly unknown, we would probably end up losing
quite a bit of money. We made a bit of a decision that we would do as much as
we could to gain exposure without touring, videos, releases, licencing etc. so that
when we could start touring, people would actually show up! In LA the crowds
have been great, but I think we still need to raise the profile of the band before
we can really consider any long tours.
• Can you describe what your style of music is?
MIA:
Good old fashioned rock 'n roll. With range. We have some tracks that are
harder than others, one might have a ska element, while another leans in the
direction of funk. We are always playing with incorporating different genres
into our music, because like people, music is very multi-faceted. And then of
course you have the unique sound that comes from the blending of our
different backgrounds and strong suits. The fact remains that there are not a
ton of female-fronted rock bands out there at the moment. So hopefully our
powers combined make a different and refreshing take on classic rock and
roll.
•
What would be your dream city to perform in if you had gotten the chance
to?
MIA
:
Oof. That's too hard because there are too many. I would love to play Dublin,
anywhere in the UK really, which is luckily not so far out of our reach, as two
of our band members are from England. Anywhere in the world where there
are people that want to rock (which I think is probably ubiquitous) we will
rock. South Africa would be killer as well. Brazil, I mean, just don't get me
started.
•
Can you tell us what can we expect with this new album?
MIA:
You can expect 8 new tracks that we've never recorded before. Plus 4 new
and improved oldies-but-goodies. The point of recording our old EP was
mainly to use as a calling card. We used that EP to lure in a producer and
trick him into producing a full-length for us. So what you hear on the EP, is
really cool because you get a sense of who we are, but with the proper tools
and a lot more heart and energy put in, this full length album is exactly how
we intended our tracks to be. Get ready for the wall of sound! And every
time we debut a new song at a show, the reception gets me more and more
excited for the whole album to drop!
While you guys are waiting for their Album to drop. Go Check out their EP
Make Me
. Also, check out  their website
MadMoonRiot.com
to keep up with everything Mad Moon Riot. Thank you to Matt, Mia, Pou, and Ru for chatting with me!
Keep Up With PopWrapped On The Web!