It's no secret that books are now increasingly becoming the main source of film adaptations, regardless of their genre. Sometimes producers strike gold with these adaptations, such as with
Harry Potter
and
The Hunger Games
series…and sometimes not, as with
Percy Jackson
and
Beautiful Creatures
. Personally, I believe that
Love, Rosie
(or as its book is named,
Where Rainbows End
) belongs in the latter. Adhering to my main rule of always reading the book before the movie, I dusted off
Where Rainbows End
from my bookshelf and began to read, having pretty much forgotten the entire plot of the novel after all these years. A quarter way into the book, I realized that the entire novel did not include any paragraphs or descriptions or dialogues- but was in fact made up entirely of texts, IMs, emails, letters and notes. Hence, I felt that the movie producers' decision to change the name of the movie in comparison to that of the book was a good one, since the main female lead, Rosie, ends many of her letters, emails and the likes with 'love, Rosie,' although the fact that the film adaptation had been categorized under 'romantic comedy' baffled me a bit, since I never really laughed during my reading- but, instead, may have cried several times. It was a pretty depressing book, so to speak. As for the plot, it revolves around two characters, Alex Stewart and Rosie Dunne, who have been best friends since childhood, and eventually fall in love with one another. However, neither admits their feelings to the other until years pass, and it is only after decades that they finally realize and accept their own and the other's feelings and get together. That is pretty much the premise of both mediums, book and film. But that is, unfortunately, the only aspect of the book the film seemed to follow, and even then, not entirely. Yes, I understand and accept that both mediums are different from each other- that the film can never really completely adapt a book, word for word. But, honestly if the screenwriters had simply changed the names of the main characters I truly believe this could have been a completely different movie, with nothing to do with
Where Rainbows End
. I can just imagine Cecelia Ahern being handed the script and going through it for the first time, shocked by every plot change, every character cut, every character change. Honestly, the essence of the book itself barely remains in the adaptation itself. Even the decision to change the movie's name seemed unnecessary, since the movie barely included any letters or emails, etc., and when it did, they just seemed more cringe-worthy than sweet and sincere. The book itself, I admit, had new characters coming in every five minutes, which is why I assume the movie had to cut out many of them, in order to not complicate and confuse viewers. Yet the screenwriters seemed to have taken a step further, going on to change most of the characters in the movie: Rosie has two younger brothers instead of an older sister and younger brother, the father of her child is changed into a completely different person who she ends up marrying in the movie, instead of a character who isn't even included in the movie; Alex has a sister instead of a brother, with the character of his best brother, Phil, being changed to some random creepy guy who approaches him at a bar, and both his girlfriend and wife are given ridiculously over-dramatic and unlikable personalities, pretty much the complete opposite of the book. I could go on and on listing the many, many differences between the two mediums (which really were more than I've ever encountered in any book-to-film adaptation), but one which I personally feel was the most major and important part of the book was completely wiped and changed to something which just didn't seem to match up in effect. That scene being the very ending of both the book and movie, where Rosie and Alex finally meet up and get together, and all is well in the world again. In the movie, both of them are about thirty years of age, with failed marriages, meeting up in a beautifully shot hotel of sorts Rosie has opened for herself. In the book, its been fifty years now, and Rosie has gone through her entire life never having had the chance to fully be happy, because of one reason or another- a life which I wouldn't wish on my worst enemy. With both her parents now passed, and the money and house in the countryside they left for her instead of her siblings (because she truly needed it the most), she finally fulfills her life-long dream, her biggest passion: to own her own hotel, which she does in the form of a B&B. That is when Alex enters into the picture again. Both of them are past fifty, have had their highs and lows, and they at last find peace and happiness with each other. If that was accurately translated into the movie, I truly believe it would have given a The Notebook-ish feel, and we all know just how much we cried during the very last scene of it. Yes, my opinion of the movie may be heavily biased on account of having read the book, but even those I had gone to see it with genuinely felt that regardless of it being a 'cute' movie, it really was a pretty forgetful one- a romantic comedy with plenty of charm on account of the flawless chemistry between the leads, as well as the beautiful locations, but with barely any laughs. It had its sad moments but they barely measured up to the audience feeling connected and sympathetic towards Rosie. Basically, it was neither here or there. Moreover, any attempts at including the comedy genre in the movie, I personally believe, failed drastically and ended up as scenes which were just ridiculous instead, such as Rosie being impregnated due to a condom slipping off inside her during sex, her later on going to her daughter Katie's school handcuffed to and hence carrying a huge bed railing with her there, etc. etc. All that being said, as I mentioned above, the two highly underrated leads, Lily Collins and Sam Claflin had plenty of chemistry, and if not anything else, the movie left you having fallen in love with both of them, with the use of strategic (though at times unnecessarily long) close-up shots of both actors. If you were to watch Claflin and Collins' photoshoot/interview for Net-a-Porter.com below, instead of the movie itself, you'd see just what I mean about their apparent chemistry in the movie.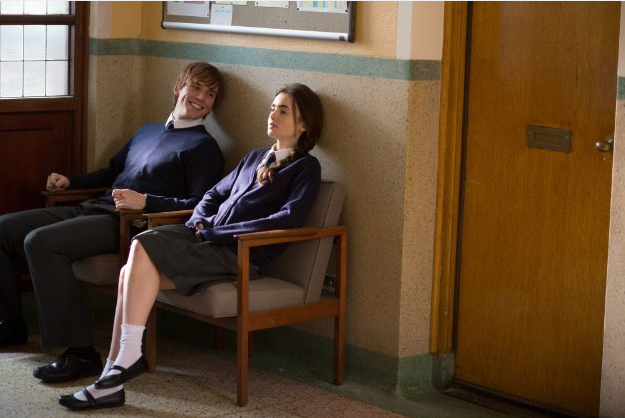 Courtesy of IMDB
With the already perfect cast, a few less tweaks to the script, and taking out the 'comedy' in its romantic-comedy genre,
Love, Rosie
may become one of the best romantic movies of the year, like
 The Notebook
and
A Walk to Remember
became after their individual debuts. http://www.youtube.com/watch?v=jZx3xRiOd3E
Keep Up With PopWrapped On The Web!
Twitter
SoundCloud
Facebook
Instagram
Tumblr
Pinterest
YouTube