Lucy Liu ("Elementary") was tapped by NBC earlier this summer to direct USA's serialized hit-drama Graceland, currently in its third season. Her episode, "Master Of Weak Ties", is the tenth episode of the season and will focus on the fallout of Paige's (Serinda Swan) need to kill Toros Berbarian (Val Lauren) in self-defense, mostly due to a lack of communication and deeply-rooted mistrust between her male roommates.
Liu commented on the series to USA Network, saying that she believes it to be "a truly gripping drama series with strong, dynamic characters and a knack for shedding light on the 'human element' of some very provocative story lines." One of these story-lines to which Liu is referring is a major plot arc from last season, which examined and exposed the realities of human trafficking in the United States. Liu's debut as a short film director was in 2014 for MEENA, based on a chapter from Half the Sky: Turning Oppression into Opportunity for Women Worldwide, a best-selling book by Nicholas Kristof and Sheryl WuDunn about the need to fight child trafficking in India. It can't be ignored that Liu's commitment as a human rights activist parallels her new connection to Graceland.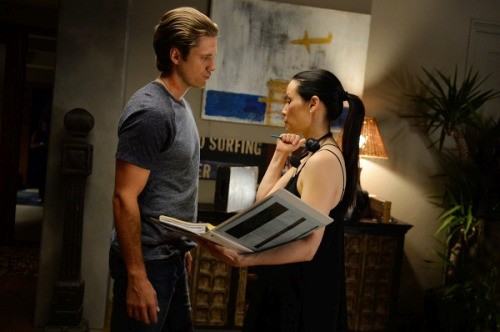 Courtesy of USA
Along with Graceland's efforts to explore human rights issues and bring the intricacies of undercover work to light, it also defends women's roles as federal agents. The dynamic stories credit the female characters' physical, intellectual and critical abilities, something that having a female director will enhance as the season starts to drive these story lines towards the finale. Charlie (Vanessa Ferlito) internally fought with her role as a strong, career-driven agent, making questionable decisions about her pregnancy that inevitably resulted in the tragic loss of her unborn baby. Her need to avenge her loss as a mother will also be revisited as she works with Jakes (Brandon Jay McLaren) to takedown a major money launderer and complete her initial case. Other notable strong women on the show this season include Amber (Morgan Britt) and Lucia Solano (Jamie Gray Hyder), both of whom make decisions to declare their independence from associations they have with criminal operations.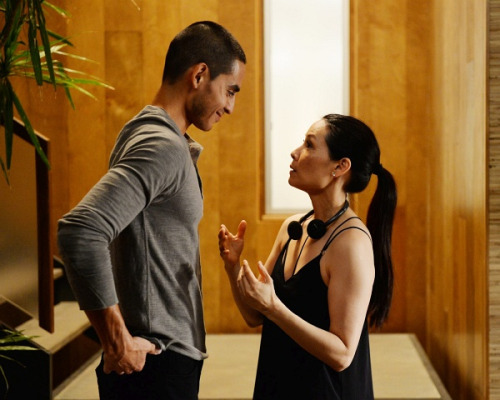 Courtesy of Twitter
Liu's ability to direct with a strong focus on characterization will bring a more realistic sequence of events to the untangling relationships between the agents. In this week's newly released teaser clip, there is a theme of personal responsibility and identity amid a continuous struggle to place blame on allies in fallen-out undercover plans. The show is not afraid to unearth ethical dilemmas faced by agents when working undercover, and Liu's attention to these twisted character motivations will surely be a fresh take on how our favorite agents find forgiveness and new team-oriented goals within the house.
In addition to Graceland's growing audience (partly due to its partnership with Netflix as a recent summer addition) and its successful return to a balanced tone that was established in season one, Liu's leadership with the show is helping to launch the series into the eyes of many more viewers. There has been minimal promotion for the series in comparison to other shows on USA Network, and her connection to the show is supportive of locking in a fourth season. Liu's episode airs this Thursday, August 27 on USA Network at 10/9c.