Not much is known about Lupita Nyong'o's character in the upcoming Star Wars: The Force Awakens installment. The plan is to keep it that way until opening day.
We have been given many juicy details as we inch closer to the film's December release, including numerous official set photos and impressive trailers. Missing from all the material released are details about the mysterious character played by Nyong'o. She's confident her character will remain hidden, saying:
Well, the easy part is you don't get to see me until you see the film. All you get is dots on my face.
The actress, who won an Oscar for her role in 12 Years A Slave, said she felt very lucky to be a part of the film. She said "to be able to have that experience and the continuation of Han Solo and Luke and Leia's journey is really a blessing".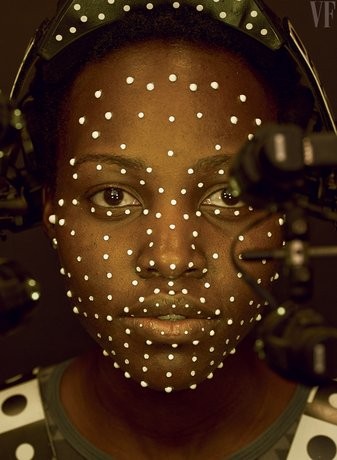 Courtesy of ibtimes.co.uk
Official photos showing Nyong'o's face covered in those dots indicate the character will be computer generated and of an alien species. Reports have also stated that her character, called Rose on set to preserve secrecy, is actually named Maz Kanata.  She's a space pirate who apparently lives in a castle, and will be one of the few Star Wars: The Force Awakens characters to be fully computer generated.