San Diego Comic-Con is underway and it's no surprise that Star Trek is one of the main topics of this year's convention.
Star Trek, which is currently celebrating it's 50th anniversary, is definitely  a series that has impacted culture in various ways. Which is why it wasn't surprising that MAC Cosmetics announced their partnership with them for a 50th anniversary collection.
Despite what you may think, this collection is a must have for everyone who is both a Star Trek fan and a fan of makeup in general. The collection does contain pieces that are a little more out of this world, but it's still a collection that can be used for everyday wear.
"When people hear Star Trek they think space and out of this world, but that doesn't mean the collection has to be so out there. Which is why it's nice to see people surprised by the collection and enjoying it," said Dominic Skinner, Senior Artist for MAC Cosmetics.
Fans at San Diego Comic-Con not only get to see the collection early, but they also get to try it on themselves with the help of on hand makeup artists and can even buy the pieces 6 weeks early befor it hits the general public.
Some highlights of the collection include the "Where No Man Has Gone Before" lipstick, which contains a redish hue with gold metallics that allow your lips to pop more, the "Luna Luster" highlighter, which gives you a different kind of shine the more you buffer the product onto your face, and the "To Boldly Go" pressed pigment eye shadow, which adds a fun copper color to your eyes that works well to create a dramatic smoky look.
The collection also includes lipglasses, eyeliners in various colors, mascara, nail polish, and two new brushes.
All items in the collection come with the Star Trek 50th logo on its packaging, making it even more special than other typical MAC products.
The best part of the collection is the availability of it to those of different skin tones and makeup preferences. The various colors and shades are not only Star Trek inspired, they are also inspired by the various women in the series.
"When we created this collection, we wanted to make products that were like these female characters in the series; strong, independent women. So we hope that when people wear this collection they feel just like that and think, 'I look hot, I look amazing,' and feel that strong, independence that these characters have," continued Sherwood.
Fans were not only able to try on the different products, but also were able to meet some of the characters that inspired the collection. The venue included three different rooms on the space station, inspired by the Interprise, each with a different purpose and characters that fans can interact with.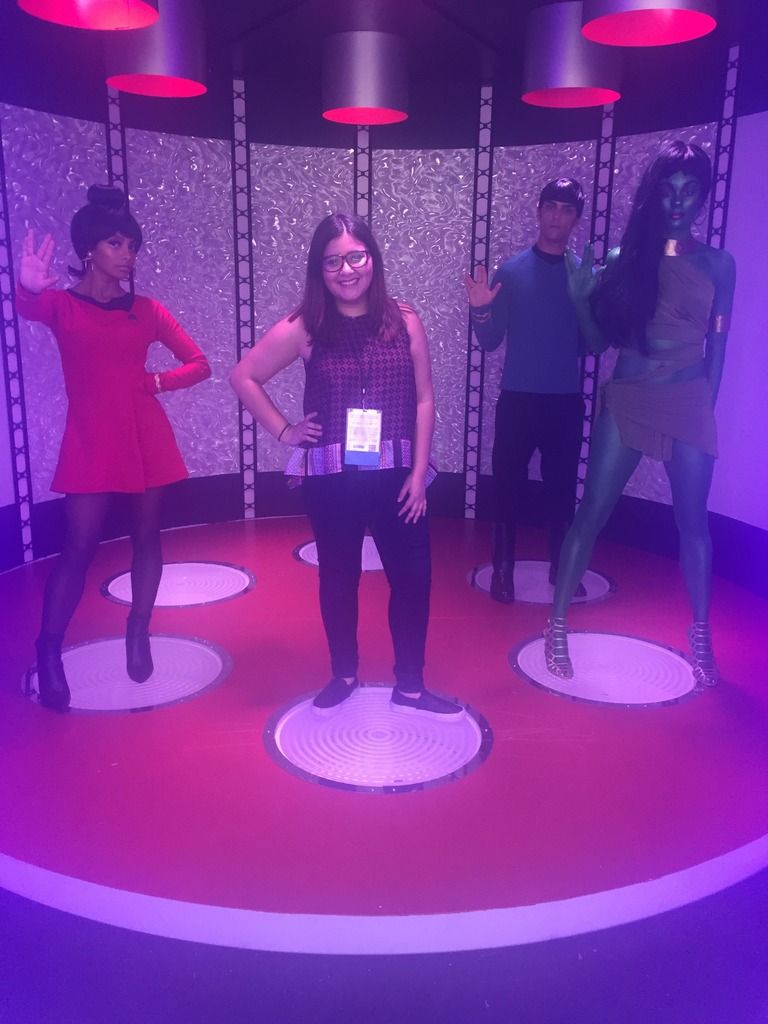 Photo courtesy of Tamara Fuentes
Also possible is fans being able to create a video of themselves being beamed in and out of the transporter, just like in the series itself.
Even if you are not a Star Trek fan, this collection just holds so well on its own that it is certainly one of MACs strongest collaborations in years.
The MAC Star Trek 50th Anniversary Collection is currently available exclusively at San Diego Comic-Con at Children's Park. Those who are unable to attend the collection will be able to buy it in-store and online starting on September 1st.