You want to know what's great about being a fan these days? Publishers and artists know that the best way to engage their audience is by connecting with them via social media, and giving them free things.
That's why PopWrapped has partnered with Disney-Hyperion to bring you a killer prize pack that includes the newest book from myth-master Rick Riordan, Magnus Chase and the Gods of Asgard: The Hammer of Thor.
The official summary reads:
"The second installment in Rick Riordan's blockbuster Norse mythology series has Magnus and friends helping the god of thunder find his missing weapon before all Muspellheim breaks loose."
"Thor's hammer is missing again. The thunder god has a disturbing habit of misplacing his weapon--the mightiest force in the Nine Worlds. But this time the hammer isn't just lost, it has fallen into enemy hands. If Magnus Chase and his friends can't retrieve the hammer quickly, the mortal worlds will be defenseless against an onslaught of giants. Ragnarok will begin. The Nine Worlds will burn. Unfortunately, the only person who can broker a deal for the hammer's return is the gods' worst enemy, Loki--and the price he wants is very high."
If you've ever read any of Riordan's books, you know that he never disappoints when it comes to painting fantastical landscapes populated with heroic young demigods cursed with saving the world.
Along with the new Riordan novel comes a whole slew of extra treats. No lie, this prize pack is legit. Mine arrived this week, and it's sheer nerdery brightened my whole day.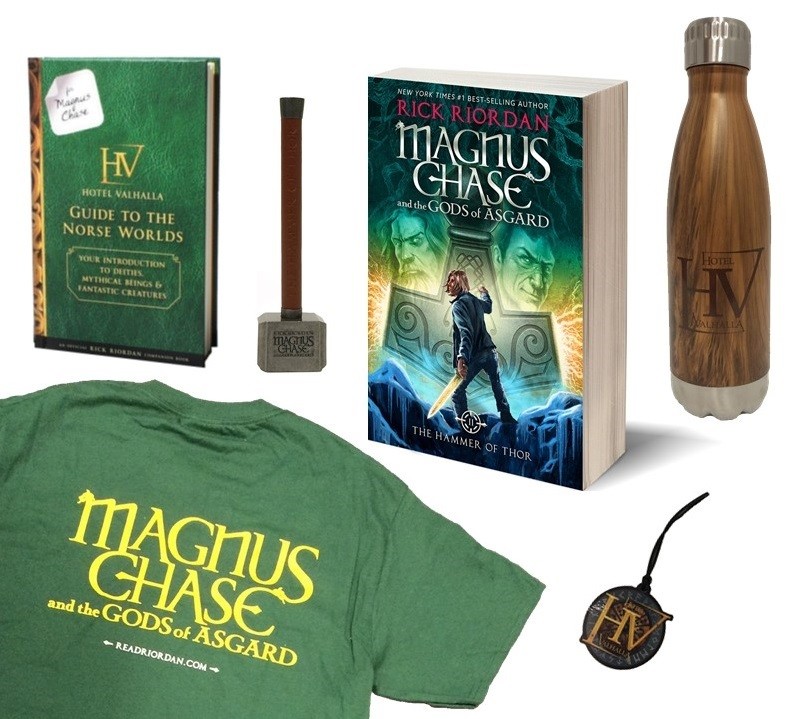 Disney-Hyperion
Win this contest and you'll be the proud recipient of...
-A copy of official companion book: For Magnus Chase: Hotel Valhalla Guide to the Norse Worlds
-Hammer of Thor pen
-Hotel Valhalla Swell-Style water bottle
-Hotel Valhalla luggage tag
-Hotel Valhalla t-shirt
Want to hear more about that intriguing companion book mentioned above? I've got you covered!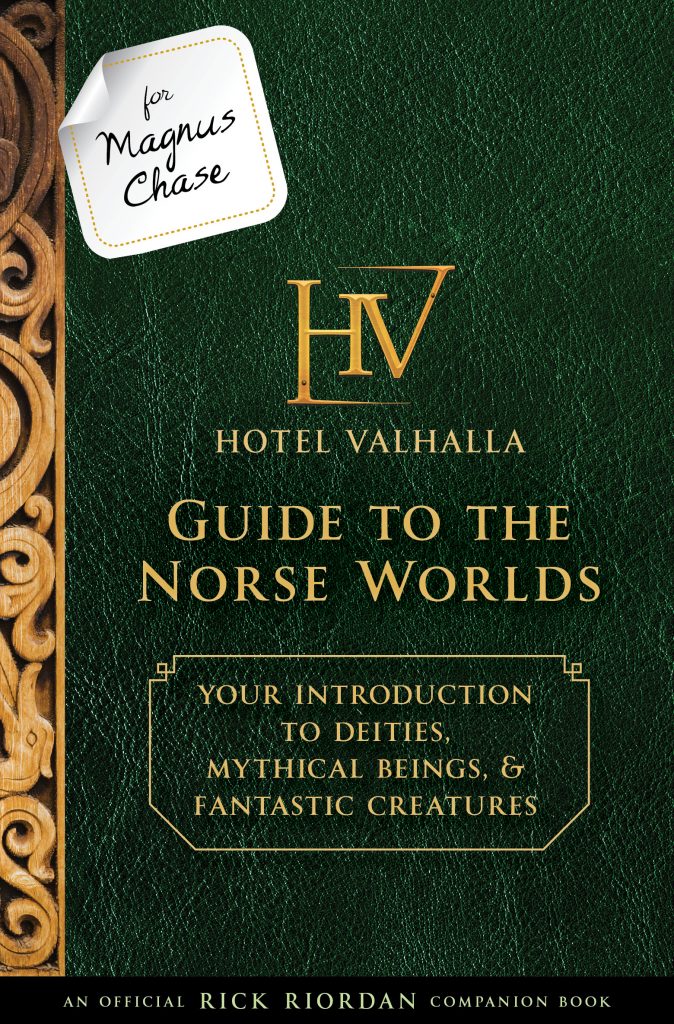 Disney-Hyperion
"So you've made it to Valhalla. Now what?"
"This "who's who" guide to the gods, goddesses, and other important figures of Norse mythology was commissioned by Helgi, who, after more than a millennium as manager of Hotel Valhalla, became fed up with answering the same questions from newly deceased heroes at check-in. The profiles provide essential stats, interviews, and personal reflections so you can identify the gods and avoid those awkward introductions. Handy facts about other beings round out this go-to tome. You'll never see Ratatosk as a cute little rodent or confuse a dwarf with an elf ever again!"
Winning this incredible prize could not be easier. All you have to do is share this story on Twitter or Facebook, tag @PopWrapped, and let us know you want to win the #HammerOfThor (both @PopWrapped & #HammerOfThor must be included to be eligible)!
May the best tweeter win!
Giveaway open to US addresses only.
Prizing and samples provided by Disney-Hyperion.