Game of Thrones star Maisie Williams has traded in the world of Winterfell for Taiji, Japan. Instead of seeking revenge against those who have killed the Stark family, Williams is fighting to put an end to the dolphin hunt that takes place in Taiji every year, urging her fans to stop buying tickets to marine shows.
"It was something that just struck a chord in my heart. And I'm a firm believer that if there is something that you really want to stand up and fight for, then you should. And with everyone doing their own little bit for what they believe in, hopefully together we can make the world a better place," she told Yuri Kageyama in an interview with the Associated Press News.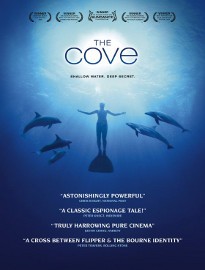 topdocumentaryfilms.com
The slaughter of dozens of dolphins for meat and the subsequent selling of the rest to aquariums and shows was brought to the public eye in 2009 when the Oscar-winning documentary The Cove was released. It quickly drew attention, and, since its release, Taiji, Japan hasn't been a stranger to celebrity activists, seeing the likes of Hayden Panettiere, Brian May, and more. Leading the charge is Richard O'Barry, who was a dolphin trainer for the TV series Flipper.
Maisie Williams, who has over four million Instagram followers and more than 1.5 million followers on Twitter, is hoping that her influence will help the cause and help put an end to the practice, stating in a recent tweet that "what goes in Taiji stems from supply and demand. If we stop buying tickets to dolphin shows, the demand for captive dolphins goes away."
While not everyone is able to take direct action in Taiji, Williams encourages them to stand with her by taking the pledge not to buy tickets for marine shows and to, instead, see dolphins in their natural habitats, where they are wild and free.