It was a big night for the Obama Family, when Sasha and Malia Obama attended their first state dinner on Thursday (March 10). At the State Dinner President Barack Obama, along with his family, welcomed and honored Canadian Prime Minister Justin Trudeau during his visit to the United States.
This was the first time that Malia, 17, and Sasha, 14, attended a State Dinner. Both of them were in awe and looked glamorous at the occasion, but the highlight of the evening came later.
Along with the Obama and Trudeau families, the White House hosted four Canadian actors and actresses at the State Dinner, and one of them was Ryan Reynolds who's recent film Deadpool has turned many heads and garnered generally positive reviews.
That's when Sasha met Reynolds, and her inner fangirl and excitement came out. She had a conversation with Reynolds, and was smiling uncontrollably.
Then, this iconic photo was taken.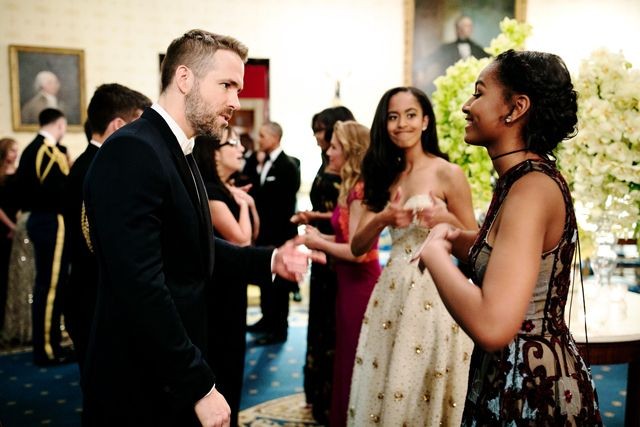 refinery29.com
Yes, it is the amazing meeting between the President's daughter and the Proposal actor, but it is what is in the background that makes this photo all the more amazing.
In the background of the now-iconic photo Malia Obama is seen giving her sister an encouraging thumbs up.  It may be a thumbs up like "YES YOU'RE TALKING TO RYAN REYNOLDS," or it could be a "Way to fangirl" thumbs-up. Either way, this perfect sister moment will live on for eternity.
Sasha ended up sitting next to actress Blake Lively, Reynold's wife, at the dinner, which is sort of ironic, funny and at the same time. Overall, it was clearly an amazing night for the young Obamas.
The Twitterverse had generally positive reactions to this photo. Here's just one example, showing how Sasha represents their inner fan girl and would have reacted just like she did when meeting Reynolds.
https://twitter.com/ChiSportsGal/status/708482821329784832?ref_src=twsrc%5Etfw
The entire dinner turned out to be a great night, as the United States made it a warm welcome for Trudeau. He, along with Obama, also went on to discuss how mature Sasha and Malia were, according to Today.com.