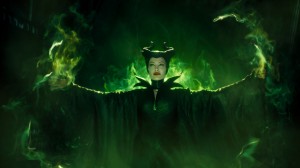 Courtesy of Disney
Benjamin Spence
Staff Writer
Sleeping Beauty
tells the story of new born Princess Aurora, who suffers the sleepy curse of evil fairy Queen, Maleficent. Fifty five years later, Disney is re-telling the story with a live action blockbuster from director Robert Stromberg and screen writer Linda Woolverton. In a
Wicked The Musical
style twist, Maleficent (Angelina Jolie) turns out to be more Maternal Maleficent as opposed to Malicious Maleficent. At the beginning of the new fairy tale we meet the young "evil" fairy (Isobelle Molloy) who has a big personality with big wings to match. Following an accidental run in with a young (soon to be King) Stefan, the unlikely pair develop feelings of true love. Even though Maleficent acts as a protector of the magical world against the greedy human one, her feelings towards Stefan progress into adulthood. As a flawless Angelina bursts onto the screen, you find yourself smiling as she soars around the magical moors. The 3D effects enhance the
Avatar
-like enchanted forest, with cool creatures and vibrant colors contrasting with the dull human world, just on the other side of the moors. Angelina brings to life the character with the charm that only she can. With yellow snake eyes and cheek bones borrowed from GaGa's "Born This Way" video, she perfects the British accent, charisma and temperament of the character. The main premise of the story develops with Stefan's (Sharlto Copley) heart-racing betrayal. We see Maleficent not only lose her lover but also her beloved wings. Stefan's "true love kiss" has left a nasty taste in her mouth. For the first time you feel emotive towards the character as she screams in both physical and emotional pain. Interlinking the new back story with the classic tale, a celebration is thrown for the birth of baby Aurora. Just as the fairies present their gifts, Maleficent arrives pumped with vengeance; however this time, we know why. Angelina delivers a mesmerizing performance as Maleficent is sarcastically chilling, building pre-curse suspense. With a slight change to the scene featured in
Sleeping Beauty
, she reins her evil streak over the baby Princess. True to the original story, Aurora (Elle Fanning) is raised by pixies Fittle (Lesley Manville), Knotgrass (Imelda Staunton) and Thistlewit (Juno Temple), who unfortunately come across as annoyingly stupid rather than charmingly funny. Maleficent refers to Aurora as "Beasty," but as we delve deeper into the character, neither the audience nor the apparent evil Queen herself believes she really hates the Princess. As Aurora grows, so does Maleficent's battle with her identity as a villain or a hero. Following the recently successful
Frozen,
it seems like Prince Charming's were so last century as Aurora's love interest, Prince Phillip (Brenton Thwaites), barely features. Yet again it's all about the ladies and their roller coaster of enchanted emotions; a winning formula Disney is cleverly clinging to. The few battle scenes featured are on the verge of being epic but just miss out by a spindle. We must however remember this is Disney and not a
Game Of Thrones
bloodbath. One scene where colorful creatures surround Aurora in the magical forest allows Disney to show off with sharp 3D effects. This mixed with the sensational score by James Newton Howard is sure to give you goosebumps.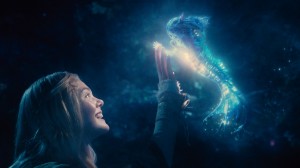 Courtesy of Disney
Maleficent
could have easily ruined a timeless classic, but thankfully simply adds to the magic. The story will be enjoyed by children newly introduced to the tale and also big kids like us who grew up with it. Maleficent is released in the UK today (May 28) with a US release on May 30. Check out a clip below:
Keep Up With PopWrapped On The Web!