Title - Seraph of the End: Vampire Reign
Publisher - VIZ Media LLC
Release Date - June 3rd, 2014
Seraph of the End  is one of this season's most talked about and popular anime series; a series that I've quickly grown attached to as it nears the end of part 1, with part 2 of the series premiering later this year. With an anime that good, I decided to pick up its source material and read it while tuning in to the anime every week. Seraph of the End is licensed by Viz Media.
It chronicles the journey of Yuichiro Hyakuya, a hot-headed young-man whose hell bent on exterminating any and every vampire in existence. Volume 1 mainly focuses on Yuichiro and sets up the premise, setting and overarching plot of the series along with introducing supporting characters that surround Yuichiro.
BEWARE OF SPOILERS!!!! No seriously, I talk about basically everything that happens within the first volume so if you don't want to be spoiled, read no further!
An unknown, lethal and supposedly man-made virus has spread across the world, killing everyone in its wake except children under the age of 13. That's the first piece of knowledge we're made aware of within the first couple of pages. The children that survived were then taken prisoner by Vampires who took advantage of humanities downfall in order to reign supreme. These children are essentially used as blood banks in exchange for refugee. Thus we're introduced to Yuichiro, Yu for short, and Mikaela. Yu and Mikaela couldn't be any more different from one another. Yu is quick to anger and painfully rash whereas Mikaela is calmer and the thinker of the two. They both have a strong attachment to one another; an attachment that is the heart of Seraph of the End.
Yu boldly expresses his desire to slay all vampires while Mikaela remains reserved and put-off by Yu's dangerous statements. Mikaela believes that in order to survive it's necessary to think with your head and plan rather than using your brute strength against beings that are 7 times stronger. Mikaela's planning focuses in on vampire "royalty" Lord Ferid, one of the antagonistic forces of Seraph. Mikaela lets Ferid feed off him in exchange for anything Mikaela wants which includes food for himself and his family. In a flashback, its revealed Mikaela and Yu were living in the same orphanage along with the other kids that Mikaela now considers his "family." Mikaela is the leader amongst these children and views it as his responsibility to take care of them and their needs no matter how much Yu insists he has no need to carry that burden alone.
Seraph spends a good amount of time establishing domesticity amongst Mikaela, Yu and the other kids despite their troubling circumstances. It's quite obvious just how much Yu and Mikaela care for one another and the others. These carefree couple pages begin to attach us to Yu and Mikaela's life before cruelly ripping it all away. Mikaela steals a gun and a map from Lord Ferid's mansion and convinces Yu that they should all run away. Mikaela, Yu and the other adorable kids set out on a journey they think will lead them to an escape. Unfortunately, Lord Ferid was privy to Mikaela's plans and ambushes them, killing everyone except Yu and Mikaela. Within a blink of an eye, they both loose everyone they ever held dear. Determined to get Yu out alive, Mikaela lays his life out on the line. Ferid mortally injures Mikaela by not only ripping his arm off, but by putting his fist through his chest. Yu then, in turn, shoots Ferid in the head, seemingly killing him. Yu is forced to leave a dying Mikaela behind, a heart-wrenching moment that shapes up Yu's personality and is the catalyst to Yu's never-ending rage. Seraph makes it clear that although Yu and Mikaela cared deeply for the others, they always thought of one another first and foremost.
Yu successfully escapes and encounters Lieutenant Colonel Guren Ichinose of the Japanese Imperial Demon Army who mentions Yu was "prophesized." It's a brief moment, one that isn't mentioned again, but I theorize its information that will be focused upon in future volumes. The Imperial Demon Army is a force consisting of skilled humans who protect the remainder of humanity from vampires. Apparently, it turns out the vampires are a group of liars. Not all of the "adults" have perished from the virus and the world has remained intact, more or less. One fascinating aspect of Seraph is that the readers can never be sure of someone's motives. The vampires are being painted in a clearly negative light yet we don't really know what goals the vampires are striving to achieve. The same goes for the opposing forces standing tall against vampires. Both sides have murky motivation, making Seraph all the more enjoyable.
The manga takes a four-year time leap, with Yu now being 16 years old. Yu is just as hot-tempered as ever and is constantly haunted by Mikaela's death. Yu is sent to Shibuya High School for studies after he disobeys direct orders and slays a Four Horsemen of John which is a type of monster that appeared around the same time the virus was spread. The goal is for Yu to make friends and gain a more cooperative spirit. It's here that we're introduced to two key characters: Shinoa Hiragi and Yoichi Saotome. Shinoa introduces herself as a surveilliance officer whose there to make sure Yu makes some friends. She provides perfect comic relief and spends a majority of the manga teasing Yu rather than guiding him. Guren also proves to be a central part of the manga's comedy, giving Yu a hard time and encouraging him to lose his "virgin" status. Guren and Yu's relationship is certainly an interesting one. Their relationship is similar to the one Edward Elric and Roy Mustang had in the Fullmetal Alchmist series. Guren claims he doesn't want a brat like Yu on his team yet it's quite obvious he "sees" something more in Yu: a massive amount of hidden potential perhaps?
Yu is adamant about not making friends, but finds himself grudgingly becoming friends with Shinoa and Yoichi. Yoichi is introduced as a bullied classmate whose goal is to join the Demon Imperial Army in order to avenge his sister, who died saving him. After a brief vampire attack, Guren notices Yu has indeed made some friends. Yoichi proclaims himself as Yu's friend and proceeds to tackle-hug Yu because he was worried about him. Yoichi is the type of character you would never want any type of harm coming to; he's shown to be a ridiculously likeable character and he doesn't even appear in the first volume that much. Yu has yet another dream about Mikaela and the others, except for this time they're shown congratulating Yu on making a new friend. Yu abruptly wakes up in tears with Shinoa informing him that both he and Yoichi have been enlisted in the Vampire Extermination Unit called the Moon Demon Company. Chapter 2 ends with the heart-warming panel of Yu joining hands with Yoichi and Shinoa, thus forming his new group of friends/comrades.
The last chapter of Volume 1 is relatively short, but provides readers with a good chunk of information and a somewhat predictable twist. Yu is still stuck in high school and Shinoa reveals the school is actually one big experiment. The goal of the experiment is to see who can withstand "demonic energy" and to have those individuals join the extermination groups. We also find out that the only way to kill a vampire is through cursed gear: a type of weapon forged with black magic strong enough to kill vampires. The cursed gear also involves a person forming a contract with a powerful demon. You must be able to withstand the demon's power; if you can't, your body will be taken over by said demon. Shinoa divulges too much information to Yu and leads him down to a restricted zone. Within the restricted zone lies a cursed gear. The zone is set up as a training ground for authorized personnel. Yu quite frankly doesn't care and immediately enters the forbidden chamber in hopes of owning the cursed gear. Shinoa cautions Yu and warns him not to touch the cursed gear. If he does, he'll be taken over by a demon. Yu predictably doesn't listen and grasps the weapon with the demon immediately trying to take hold of Yu's body by coming to him as Mikaela and the other kids.  The demon's illusions don't work as Yu is quick to realize Mikaela would never encourage him to continue on his crusade of revenge because Mikaela was truly kind-hearted. Shinoa is surprised that Yu is able to resist the demon, making me think Yu is no ordinary "human".
Seraph of the End's 1st volume ends with a twist. Lord Ferid is indeed still alive, but he's not the only one. Mikaela is also alive and dressed similarly to Ferid, confirming Mikaela is now a vampire. Ferid informs Mikaela that they've found his "precious, darling angel" referring to Yu. And with that, Seraph volume 1 comes to an end. So basically, Yu is determined to slay all vampires not knowing his precious Mikaela is now a vampire himself. This is turning out to be a very Romeo and Juilet-esque tale. The two are bound to reunite, but with the two being on opposing sides, will Yu and Mikaela get a happy ending?
Seraph of the End volume 1 is by no means perfect. The art is outstanding and the character development seems well paced yet certain events seemed obviously rushed such as the fight panels and the four years of Yu's life that were completely skipped over. There was also no additional information on the "man-made" virus that killed everyone. I'm assuming they'll answer more questions in regards to the virus in future volumes, but to those who lack patience (such as me) this could be a downside. Despite those minor complaints, Seraph is off to a solid start and contains plenty of characters to root for and attach ourselves to. The bond between Yu and Mikaela has been set up to be the driving underlying focus of the series and I don't mind that at all. I'm intrigued to see where Seraph leads us next!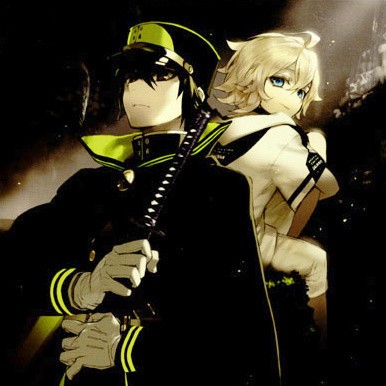 Courtesy of animenewsnetwork.com
Seraph of the End volume 1 gets a solid  8/10  with a 'must read' recommendation from yours truly! Fans of the anime will definitely enjoy the manga as well and folks who enjoy series such as Attack on Titan, Black Butler and No.6 should definitely give Seraph a shot. Seraph of the End: Vampire Reign is available for purchase via Amazon and RightStuf with it being digitally available on the Kindle, Nook, Google Play and iBookstore for $6.99.
Stay tuned with PopWrapped's MangaNook for future reviews of Seraph and more amazing manga series!