Kay Ziegler
Staff Writer
@Kay_Drew
While
Jayma Mays
is best known as Emma Pillsbury, she has starred in several other programs, including short-lived comedy
Joey
,
Smurfs,
Smurfs 2
, and
Six Feet Under
.  Let's take a look back on our favorite OCD guidance counselor.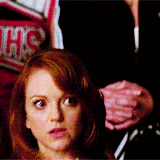 Courtesy of Ravengleek
Emma has been on the show since the pilot episode. From day one, she had feelings for Will Schuester, but because Will was married, and she was engaged to the McKinley High football coach, she did not act on her feelings until both Mr. Shue and Emma's relationships fell apart. But as things go on TV shows, their relationship doesn't last long.
Courtesy of Ravengleek
By season 2, Emma had moved on to marry Carl Howell in Los Vegas. Within this same season, the wedding was annulled and Emma was back with Will. Season 3 was marked with the couple living together, becoming engaged, and Emma running from Mr. Shue. The couple eventually repaired their relationship and married. Now the couple is preparing to start a family.
Courtesy of Ravengleek
But Emma is not just a sweet, tender guidance counselor. While Emma has a great voice, she doesn't often get a chance to showcase her range. She has a feisty side as well, although this is not often incorporated. Her performance of 'Touch-a Toucha-a Touch-a Touch Me' from
Rocky Horror Picture Show
demonstrated both her gorgeous voice and feistiness. Here's a fun fact: that song was part of Jayma Mays audition tape! So, what do you love about Emma? Do you want to Jayma perform more? Sound off below, Gleeks!
Keep Up With PopWrapped On The Web!
http://www.PopWrapped.com
http://www.Twitter.com/PopWrapped
http://www.SoundCloud.com/PopWrapped
http://www.Popwrapped.Tumblr.com
http://www.Facebook.com/PopWrapped
http://www.Instagram.com/PopWrapped
http://www.Pinterest.com/PopWrapped
http://www.YouTube.com/PopWrapped