Maria Menounos has announced she will be stepping down from her position as co-anchor of E! News. Menounos discovered earlier this year she had a golf-ball size tumor in her brain, and on June 8th underwent surgery to remove the tumor.
Menounos told PEOPLE when she heard the news, "I didn't cry. I actually laughed. It's so surreal and crazy and unbelievable that my mom has a brain tumor—and now I have one too?" Menounos' mother, Litsa, is battling stage 4 brain cancer. Her last MRI showed the cancer is in a stable state.
Thank you @people for everything:) https://t.co/tdcSwN5HJl

— maria menounos (@mariamenounos) July 4, 2017
Surgery was scheduled on June 8th, her 39th birthday, with Dr. Keith L. Black who is not only a renowned neurosurgeon but her mother's doctor as well. Dr. Black mentioned to Menounos before the surgery, "I'm 98 percent sure it's benign but we won't know until we get in there."
Menounos post-surgery
Doctors reported the surgery went well and 99.9 percent of the mass was removed. There is a six-to-seven percent chance the tumor can return, but Menounos is not letting the fear control her life. She is stepping down as co-anchor to not only recover from the invasive surgery, but spend time with her mom.
The surgery was extensive and lasted around 7 hours. Menounos described her progress so far, "I don't have my balance fully yet but as long as I'm holding on to Keven, I'm sturdy and fine. My face is still numb. This is something that takes at least a month of healing, but I'm getting stronger and stronger every day and I'll be back to normal very soon."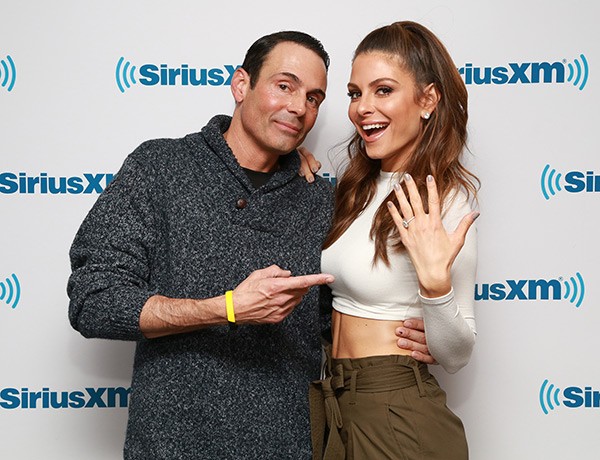 Menounos and her fiancé, Keven Undergaro, got engaged last year after 19 years of dating. Undergaro proposed on air. Menounos initially thought the proposal was a joke, I mean they have been dating since 1998, but producers and Undergaro assured her it was not.
Menounos called the experience a blessing
Facing a brain tumor just as her mom is battling the same fight could push someone to the brink, but Menounos called the experience a blessing and said she has been able to reevaluate her life. She also added, "We're caretakers as women and we put ourselves last. I tell people all the time if your car is making a weird noise, you take it to the mechanic. How come when our body is making weird noises, we ignore it? I'm so lucky that I went to the doctor and raised the alarm."
Adam Stotsky, President of E! Entertainment, released a statement saying "Our thoughts and support go out to Maria and her family and we wish them all the best knowing that Maria will tackle this with the same fierce dedication she is known for. We are grateful for Maria's many contributions to E! over the past three years."
As Menounos steps down, her co-anchor Jason Kennedy will continue to host the show.