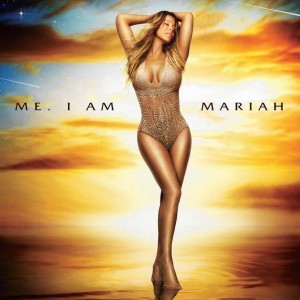 Shane Avery
Senior Staff Writer
@ShaneAvery
It's taken us quite the journey to get here. Mariah Carey is quite simply one of the biggest talents the music industry has to offer, and while I may have done my share of bitching when it came to certain public movements (which I won't rehash), I've ALWAYS been a HUGE fan of the legendary diva. Let's go back to that journey. We can start off by remembering her 2009 album
Memoirs of An Imperfect Angel
, the birth of her adorable twins, a quite memorable year on
American Idol
, and some random single releases. Here we are now, with her 2014 album
Me. I Am Mariah...The Elusive Chanteuse
, and while I was prepared to be rather letdown, something magical happened when I listened to the album on first listen. I was trying to be picky, and critique the album, but to be very honest, this is the BEST thing she has delivered since the flawless
Emancipation of Mimi
. I won't discuss previously released singles
"#Beautiful"
, 
"You're Mine (Eternal)",
 or 
"The Art of Letting Go"
, and will focus on the standard edition of the album. The album kicks off in grand Mimi fashion, as she delivers one of my personal standout tracks 
"Cry"
. The slow building ballad really showcases that voice we all fell in love with, and it almost gives you that gospel vibe. At almost 5 minutes, you get a sense already at how personal this album is to Mariah. It shows through "Cry".
"Dedicated" 
featuring Nas is almost like a throwback, but not in the complete sense. It feels like a Mariah throwback, as the song gives you the memory of her old school collaborations. Think "Fantasy" remix. I've always enjoyed the speaking bits at the beginning of tracks, and the whole "Carry like Mariah" lyric is fresh and exciting. The album gives you an R&B pulsating tone, and only 2 tracks into the album, yours truly was already sold. I may have spoke too soon though. I seem to be reading that quite a few fans are enjoying the 
"Thirsty"
 track, but I need to keep this review real and just admit that I'm not one of them. The track feels somewhat messy, and not suitable for the rest of the album. Mariah is known for delivering tracks that come as a bit of a surprise ("Touch My Body", "It's Like That") so maybe I'm just missing something. Thankfully the album goes back on track for yours truly as Mimi brings back the sounds of Motown with 
"Make It Look Good"
. Another classic stamp from Mariah, as she coos threw the lines with the sounds of a harmonica in the background. This was another track that stood out for me, as it heralded back to the Mariah of the 90's. Loved everything about this track, and have had it on repeat on more than one occasion. Mariah then takes us to the disco dance floor with 
"You Don't Know What To Do"
 where she channels her inner Donna Summer. When Mariah performed this track on the 'Today' show, I immediately understood that this could become a huge summer hit for her. Only downside? The Wale contribution. She doesn't need him on the track and would benefit in releasing an alternate version WITHOUT his verses. We move on to one of the more unique tracks on the album, 
"Supernatural"
. The track actually features contributions from her twins Monroe and Moroccan, who giggle and sing along with their fabulous mama. Other artists have had their children featured in minor ways on tracks over the years, but there is something so enduring about this track. Already stellar, the giggles from "Dembabies" just adds this realness to the record. And now for a rarity in the world of Mimi: A ready to release dance number!
"Meteorite" 
comes crashing in (clever eh?) and immediately one of the albums standout moments. The intro, featuring Andy Warhol's infamous "15 Minutes Of Fame" quote seems a tad strange, but once the beat kicks in, it's all over. With a slow build, the track bursts into a sing along moment with the uber-catchy chorus.
"Money ($ * /...) "
 wins all of the awards for most unique track title (which had previously gone to "#Beautiful"). The Fabolous assisted track, by Hit Boy, is another track carried by some infectious horn beats. While I believe Wale hurts "You Don't Know What To Do", Fabolous does the opposite on this track. His verses come across naturally and seem to fit the track. He doesn't overwhelm, nor does his feature feel out of place. Him and Mariah mesh beautifully.
"Camouflage"
comes through next, and the piano driven ballad is yet another strong outing from our favorite chanteuse. The track HEAVILY features Mariah's vocals, bare and raw. I dare say I get a slight "Butterfly" vibe from it, and for yours truly to say that, is a MAJOR compliment, as that album remains one of my favorite Mariah albums to date. Anyone else get that during certain moments in the song? Now, while I have been raving about the album up until this point, what came next absolutely blew me away. Mariah's cover of the George Michael song 
"One More Try"
 comes barreling at us with so much power that it nearly knocks you off your feet. This powerful, pop ballad would explode on the charts if released as a single, and I'm begging the higher ups to make that happen. Mariah pushes the strength of the song through her vocals and it's magical. The almost gospel tinged track serves Mimi's voice perfectly and it's the perfect song to sit back and revel in. Where "One More Try" dabbled in a gospel sound, the closing track on the album
 "Heavenly (No Ways Tired/Can't Let Go)"
 dives headfirst. Mimi has always excelled when she takes us to church and this time is no different. Think "Emancipation" track "Fly Like A Bird" but bigger. MUCH MUCH BIGGER. The song will make you want to stand up and throw your hands in the air in praise. I want to make something very clear: Is this album a great collection of pop tracks? No. That was never the goal here. It's a simmering set of classic R&B, with the odd gospel track thrown in as an added bonus. It's the type of album you relax to (unless you wanna get your dance on, throw "Meteorite" on repeat) and revel in the power. This is Mariah at the top of her game. I may have thrown some shade at Mariah over the past few years, but this album will not get ANY of that. It's a stellar piece of work to an already iconic catalogue of material.
Me. I Am Mariah...The Elusive Chanteuse
: GET INTO IT DAHLINGS!!!!
RATING: 4/5
Keep Up With PopWrapped On The Web!