Tanner Johns
Guest Contributor
If ever there were a time to buy a Wii U (should anyone need convincing), it is now.
Mario Kart
is back, and better than ever. This eighth installment of Nintendo's smash favorite uses its tried and true formula for long-time fans, but expertly builds upon it to reel in yet another generation of Karters. With a giant roster of fresh racers, three new competitive abilities, and breathtakingly beautiful, reimagined classic tracks;
Mario Kart 8
stands once again as one of Nintendo's best apps, next to The Legend of Zelda. While no installment of
Mario Kart
has ever approached anything near "unoriginal" by even the harshest of critics,
Mario Kart 8
is perhaps the biggest breath of fresh air in the series. In the past, we have seen brilliant enhancements (both visually and in feature) from title to title, but we were consistently served up the same essential format each time. Luckily,
Mario Kart
is just one of those timeless titles with such an elegantly simple formula that it really requires no significant change. This time around, though, Nintendo has brought us to the age of HD Karting - and withheld no morsel of innovation.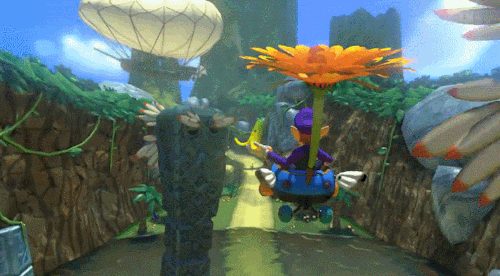 Izzicality
Welcome to anti-gravity racing. Perhaps
Mario Kart 8
's star feature (aside from the game's maiden voyage into 720p native resolution), we've been given the ability to take first place without touching flat ground at many points. And it
works.
Many experienced Karters are familiar with the game's high-risk, high-reward detours; but
Mario Kart 8
's detours are largely on the vertical side. This means that we can now enjoy crazy new perspectives or ride straight up walls to pass the competition. Another nice touch allows your kart to convert to a hovercraft design when embarking on such vertical climbs. As with many past
Mario Karts
, fans of all ages get to see some of their favorite tracks return in cool new iterations. Whether you began Karting on the Nintendo 64, the Game Boy Advance or the Nintendo DS; chances are you'll be seeing a track or two to whet your nostalgic side. This time around there is a more magical flair since we are seeing these locations for the first time in HD – and they are beautiful. From N64's Yoshi Valley to the Wii's Grumble Volcano; Nintendo's sudden expertise in HD texture mapping is made very obvious. Perhaps the most anticipated HD reimagining was
Mario Kart
's iconic Rainbow Road, particularly the Nintendo 64 version. Known to be one of Mario Kart's longest and most challenging tracks, it was a welcome sight on the lineup of
Mario Kart
8's new tracks. However, Nintendo made the troubling decision of dividing the track into three distinct checkpoints to complete rather than three laps. Even more troubling is the rather small distance between each checkpoint, making the time to complete this stage significantly shorter than the original. This decision also made it more difficult for us to appreciate any iconic scenery in the track, as the lack of laps and the inclusion of checkpoints basically made this version of Rainbow Road a straight shot without any of the original twists and turns.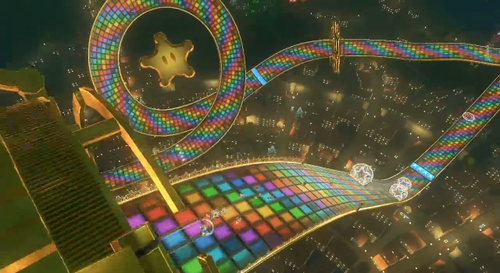 NothingButGames
Battle mode suffers from this type of issue as well, but in the reverse. In the past we have been accustomed to significantly altered "arena" versions of the game's tracks, making the environment very hectic with all players free to roam a small open area to wage war. This time around, the tracks are kept in nearly the same racing form, making it difficult for players to freely roam and find opponents. Fortunately,
Mario Kart 8
's triumphs trump any and all of its few shortcomings. One such triumph is the inclusion of three new random power-ups: the Super Horn, the Boomerang, and the Crazy 8. While the Super Horn will send a shockwave of sound that will wipe out enemy players and items, the Boomerang will knock away any foes as it makes its way through the air in front of you (or behind). The Crazy 8 will grant you the aforementioned power ups in addition to the 6 remaining in the game – all at once. These features make you a force to be reckoned with (although unlike previous installments, you may only equip one at a time), no matter which character you choose - and there are lots. With the inclusion of new racers like Pink Gold Peach or Bowser's Koopalings, you have a variety of racers (all in different weight classes) to choose from in order to suit your play style. Combined with
Mario Kart 8
's deep customization choices, each unique build feels significantly different from any other, making this title one teeming with replay value as you challenge yourself to play all combinations. Last but not least is the new Mario Kart TV feature, which allows you to share your highlight reels from each race in-game as well as on YouTube. This is an interesting nod by Nintendo to the exploding population of YouTube gamers, and one of their first truly next-gen accomplishments. Competitive players can review and critique their performances or relive their best runs time and time again with MKTV, but as of now only in modest 30-second cinematic montages.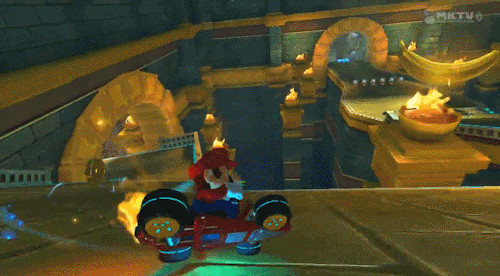 Izzicality
Mario Kart 8
, without a doubt is one of Nintendo's complete next-gen titles. It is yet again a game for the ages, as with most of anything else Nintendo touches. With a plethora of new features still within the lovely tried-and-true
Mario Kart
formula, this installment has earned its place as the Wii U's best game yet. I give it a solid 9.5/10; and have provided you with a tidy pro/con list below.
Pros:
+Stunning HD visuals +Amazing realizations of classic tracks +Deep customization options +Great new replay incentives like MKTV +New additions +Anti-Gravity
Cons
-Restricted to one power-up at a time -Disappointing iteration of N64's Rainbow Road -Lackluster battle mode maps
Keep Up With PopWrapped On The Web!